Bring 'the outside in' to your Autumn Wedding
With the leaves falling fast, what better way to bring an autumnal touch to your wedding than by harnessing all that mother nature has to offer. We've been checking out our favourite blogs and Pinterest for seasonal inspiration and have found some beautiful hints of autumn that you could use to wrap up your wedding look. Think richly-hued leaves, more leaves, berries, warm sunshine and pumpkins...
With a little bit of imagination, many of the season's delights can be repurposed to add an autumnal glow to your wedding day. You don't have to confine yourself to using the autumn palette either; there are subtler, unique ways to embrace this glorious time of year.
Even though I am inclined to avoid anything fiddly, it's rewarding to surprise your guests with an unexpected element. If you've always admired a friend's handwriting, now is the time to put their creative flair to use by asking them to write out your place cards. Dried leaves look stunning against a white tablecloth and if you're happy to get messy, you could give a nod to autumn by releasing your inner child and going crazy with the glue and glitter to create 'pearfect' name settings.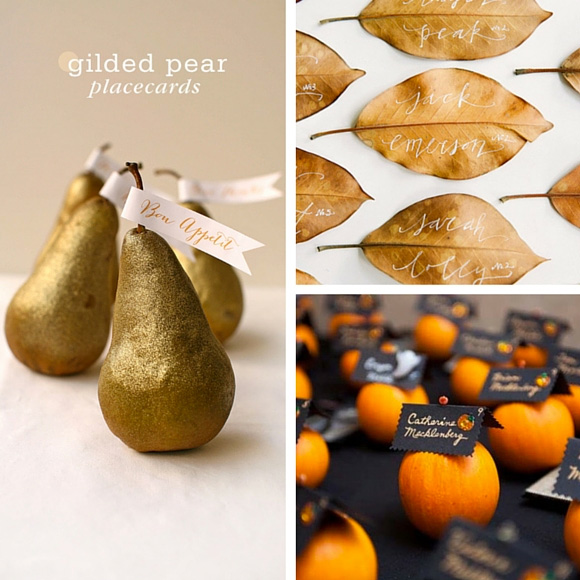 I love the simplicity of natural centre pieces. Depending on the seating arrangements you've decided on, choose an arrangement that suits your set up. The silver birch and hydrangea display shown here works best on long, rectangular tables whereas a tall centre piece would work well on a variety of table shapes. Tiny votives or fairy lights, strung from the branches, would add a relaxing ambience to the room once night falls.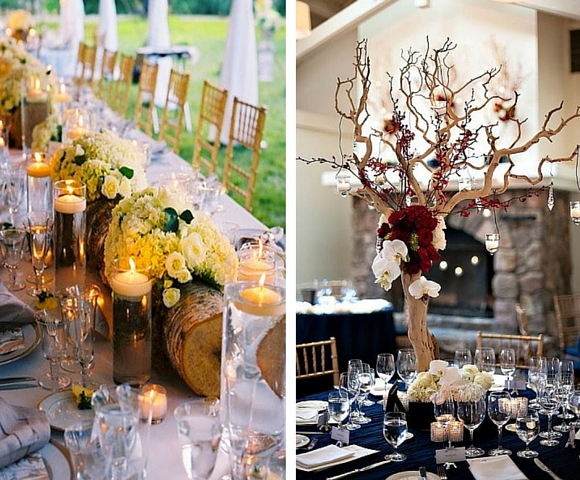 All the colours of Autumn are encapsulated in these simple vases. The rich hues of the fruit and leaves are perfectly offset by the ivory roses and would add a mellow tone to your venue.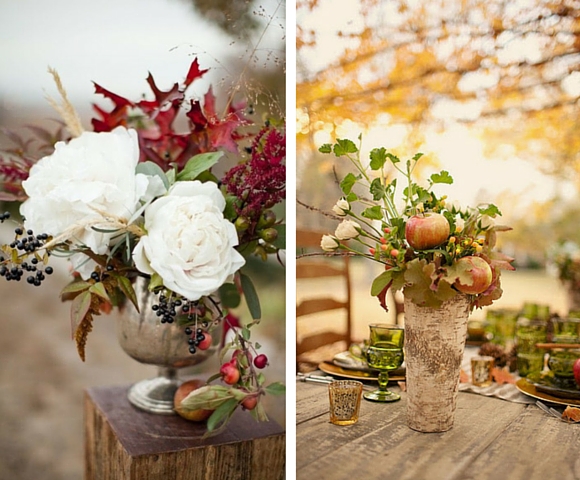 Sloe gin has always been synonymous with autumn and, whilst it is easy to make, you will need time and a plentiful supply of sloes. If you are finding that the rest of the country folk have beaten you to the berries, then there are several companies out there who offer a bespoke service for sloe gin wedding favours or how about offering a sloe gin cocktail?
Mulled cider could be offered as an alternative. It's a welcome pick-me-up on a drizzly day, being lighter than mulled wine and mixing a tad better with the fizz. Served as the reception starts, it will defrost body and mind.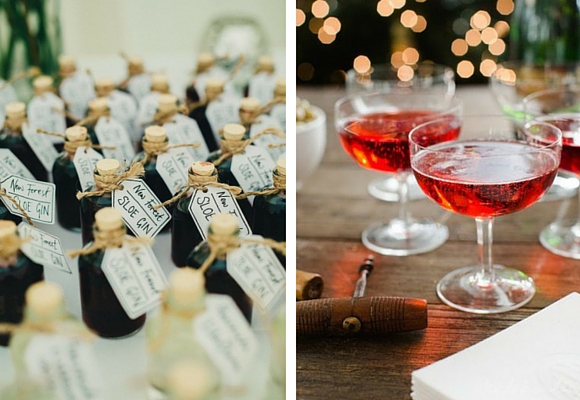 The weather can play havoc with an autumn wedding. You could strike gold and have a crisp, beautiful day or be sheltering under brollies for your photos. What you know for sure, is that all your guests will be ravenous by the time they take their seats. Make the most of seasonal fare and think about serving game or venison, with earthy greens and rich berries. Autumn fruits make wonderful desserts. Picture poached pears or warming spiced apples and berries. Choosing seasonal produce for your meal will link all the autumnal elements of your day together.
Finally, make the most of your setting. If you are given the opportunity to have a roaring fire, embrace it. There's nothing like hearing logs crackling on an open fire to warm the coldest of hands.
Wishing you a toasty, utterly fabulous autumnal wedding.
Love,
Siu x
Credits:
Pumpkin place card: livingimpressive.com
Dried leaf place card: oncewed.com
Gilded pear place cards: freutcake.com
Table displays: Intimateweddings.com, Kevin Watkins Photography
Natural vase: themountainlaurel.tumblr
Silver Birch vase: decordeprovence.blogspot
Pie: Foodanddrinkguides.co.uk
Sloe gin cocktail  - Kate Headley Photography via Ritzy Bee Events.
Sloe gin DIY favours - Peppermint Love Photography via Whimsical Wonderland Weddings