January 31, 2018
Hair and beauty
Wedding hair inspiration for 2018
The hairstyle that you choose for your wedding day really does have a huge impact on your bridal style. It needs to work with your dress, your accessories and the overall feel of the day. Your style needs to suit you and express your personality… plus it needs to stay in place until the end of the celebrations.
It's time to find your perfect look with a big dose of wedding hair inspiration that's perfect for 2018.
ON-TREND WEDDING BRAIDS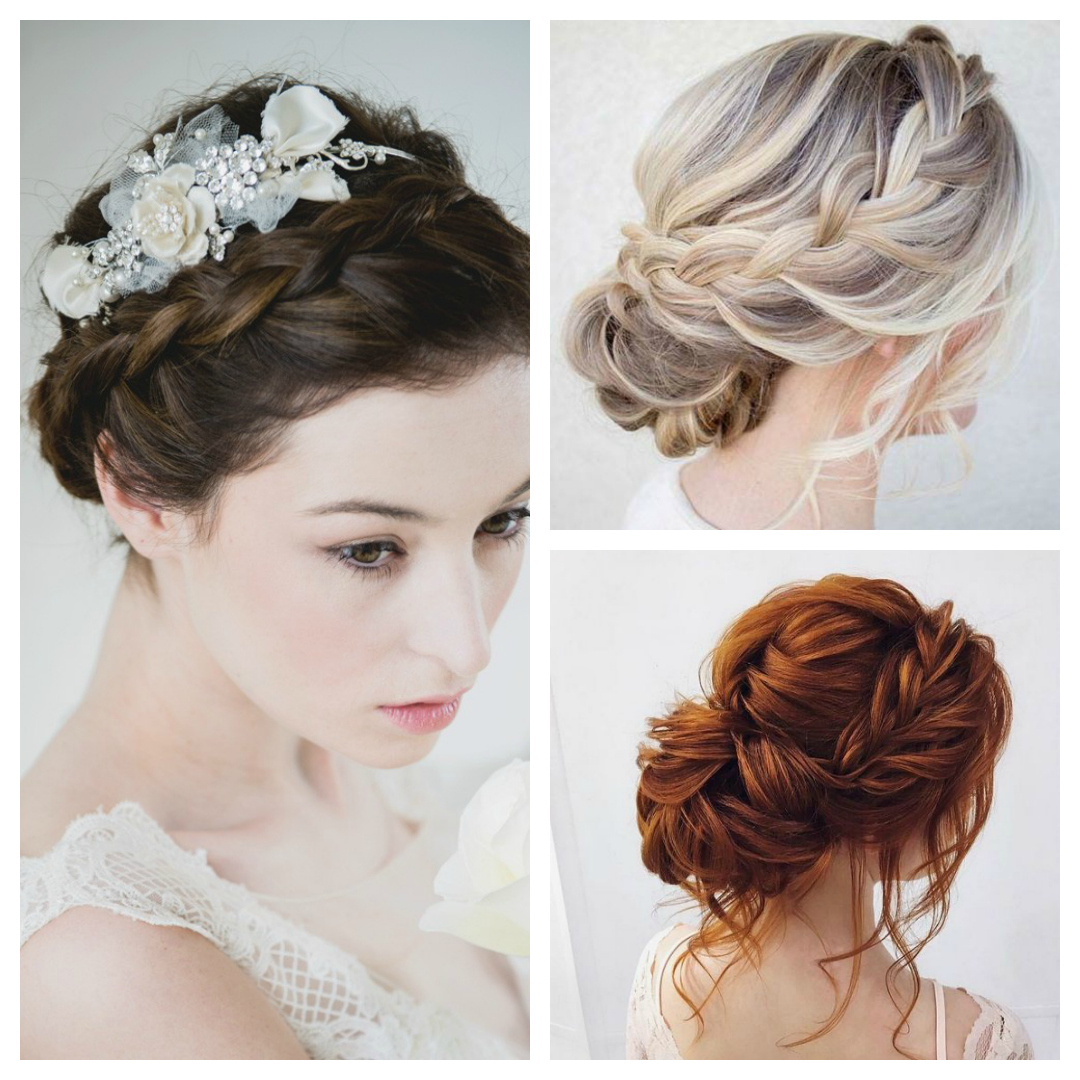 Braids are still BIG news in the wedding world and we just adore their laid back beauty. You can coax your braids into neat or messy styles and undone designs look set to be super popular this year. Braids add a huge amount of texture to your hair and they work brilliantly with gowns in heavy Mikado or delicate lace.
One of the best things about braided styles is that they stay in place really well and they can hold almost any style and weight of wedding hair accessory. Whether your want to wear a light hair vine or a more elaborate wedding headpiece, your braided style will be just fine.
However, don't think that braids are only for boho brides – elegant and sophisticated braided styles can absolutely work this look too. Talk to your hairstylist about a neater, more structured style and you can be a bride in braids, however formal your wedding
MODERN WEDDING UPDOS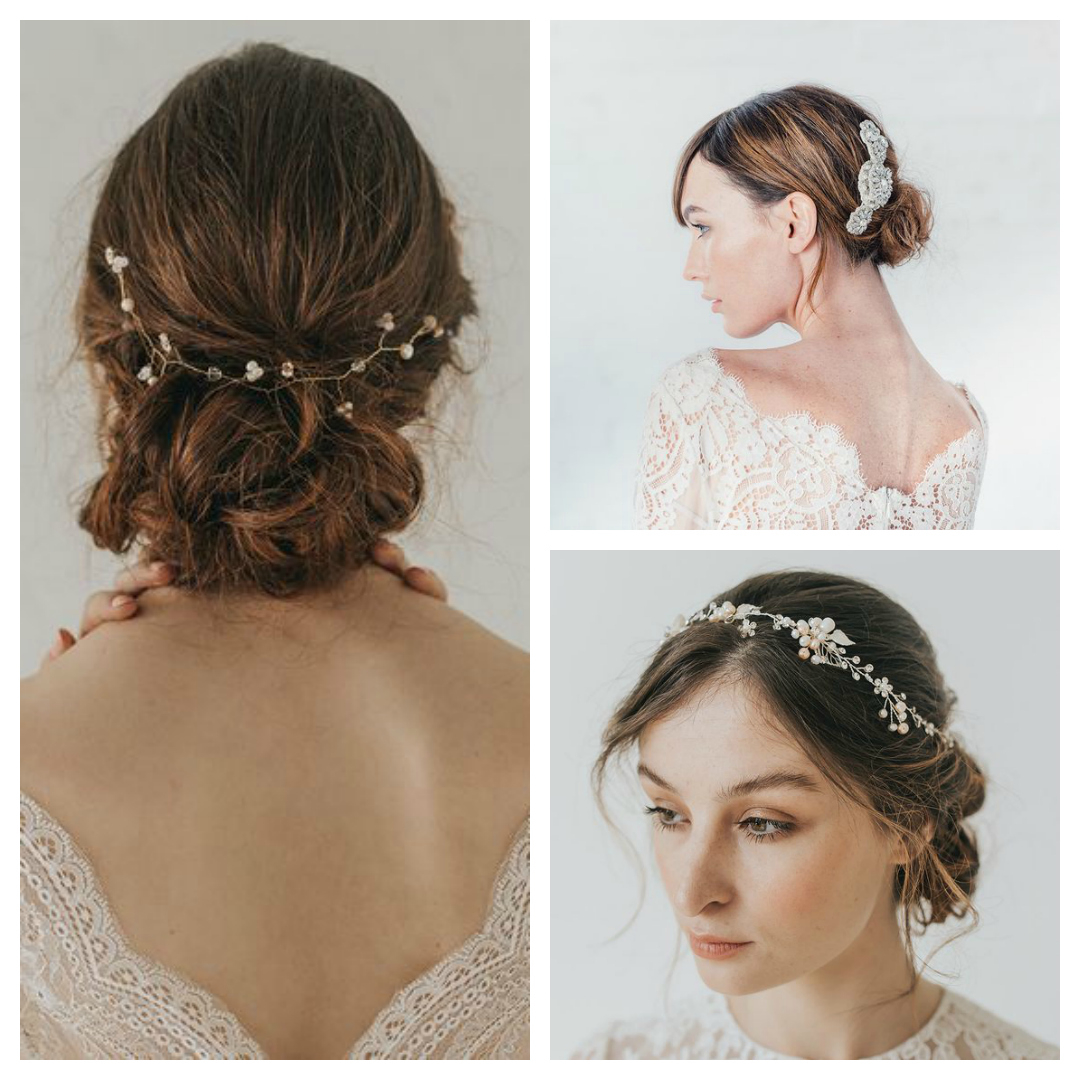 The wedding updo is an absolute bridal classic. It harks back to the time when women put their hair 'up' to signal the transition from being a young girl to a more mature married woman.  Now, we've given the classic updo a modern twist and the messy, almost un-styled updo is big news. This deconstructed updo is such an organic style and it looks best with lighter, less structured gowns. It also works brilliantly with wedding hair flowers and hairpins.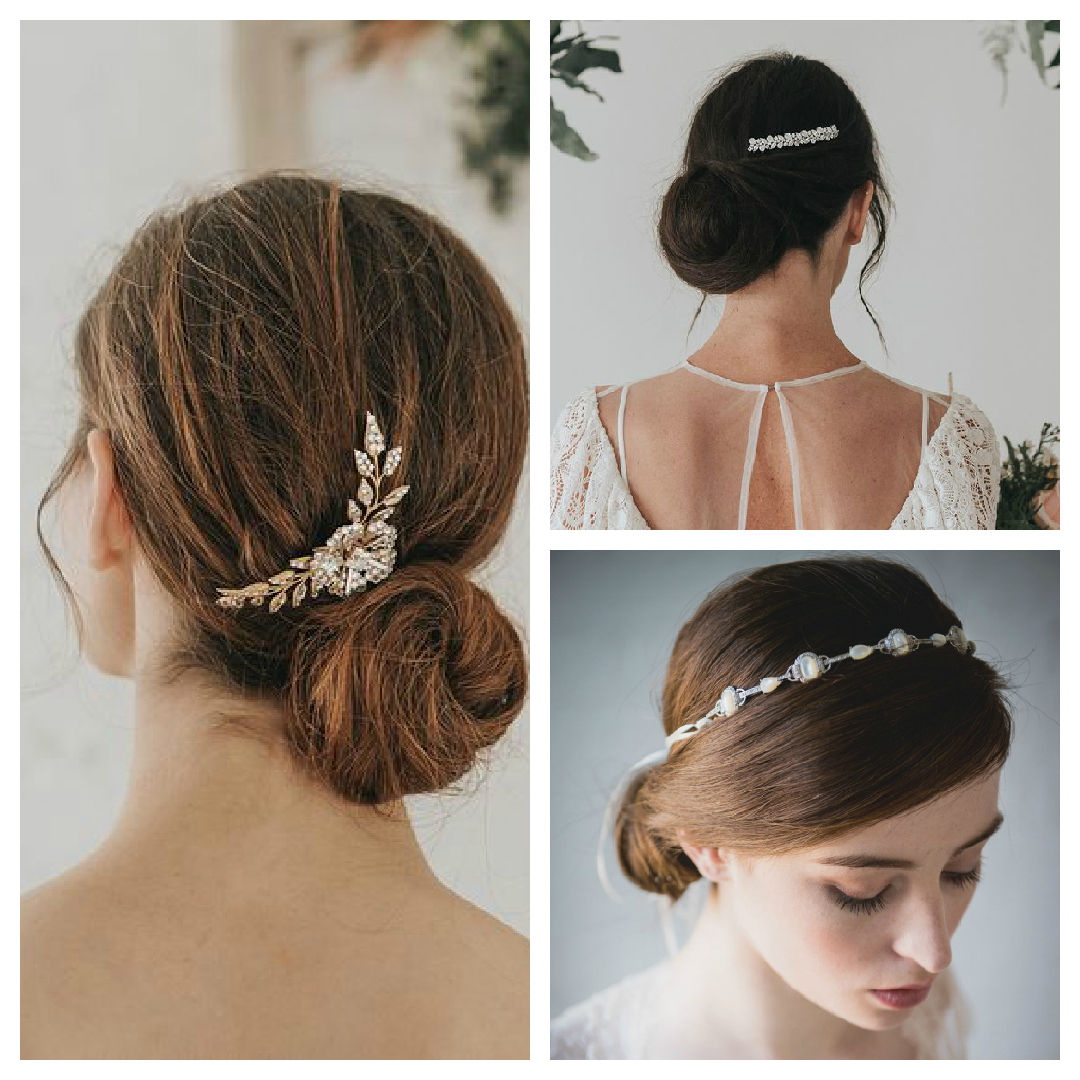 Twisted updos are also a great take on the classic chignon. The low twisted bun adds texture and lots of visual interest to your style and this style is fab for creating the appearance of lots of hair, even if that's not necessarily the case! Twisted updos suit any face shape and look amazing with wedding hair combs, headbands and veils.


Finally, we have to mention the half updo here as well. If you want to show off your tumbling tresses and still have some structure in your style, the half updo is perfect. You can add braids, tucks and twists and hairpins, hair vines and wedding headbands are great additions here too.
ELEGANT WEDDING HAIRSTYLES
Of course, elegance never goes out of style so a sleek and sophisticated updo is always going to be in fashion. We love a softer take on the super formal bun or chignon and if this is the style you go for, you can take you pick of pretty much any wedding hair accessory you like! Bridal veils also sit so well in an elegant soft updo so this really is one of the most adaptable wedding hairstyles you'll see in 2018.
If you'd like some expert advice to make sure that your wedding hair accessories work with your wedding hairstyle, just get in touch. We're always happy to help and can suggest a whole range of options for you.
Credits:
Image 1: left Autumn floral crystal, pearl and tulle bridal headband by Halo & Co top right via itakeyou bottom right via Fab Mood
Image 2: left via Hair Cut Ideas top right Boho pearl blossom circlet by Halo & Co bottom right Charlie clustered pearl blossoms hair vine by Lily Bella
Image 3: left Aphrodite crystal and pearl gold hair vine by Chez Bec top right Boudica crystal blossom hair comb by Halo & Co bottom right Posy clustered pearl blossom and leaves silver hair vine by Lily Bella
Image 4: left Lavina crystal embellished flower and sprigs hair comb by Halo & Co top right Bocheron II comb by Stephanie Browne bottom right Art Deco alice band by Stephanie Browne
Image 5: left Art Deco pendant necklace by Ivory & Co top right Virginia crystal embellished hair wrap by Ivory & Co bottom right Jade entwined crystal vines headpiece by Ivory & Co