I know I might have mentioned it before but I'm certainly going to say it again – I have the best job in the world! I love helping our incredible customers choose the accessories that are just perfect for their wedding day and I have to say that our fabulous brides put as much time and effort into selecting outfits for their bridesmaids as they do for themselves. So today, inspired by these brilliant women, I'm taking a look at a few things that stylish bridesmaids simply shouldn't be without.
Firstly, let's talk about gowns and I'm so happy to say that right now, bridesmaids have the best choice of outfits ever! The current trend for patterned dresses is really taking off and I love this flexible, personal look. There are so many patterned fabrics on the high street at the moment so it's no surprise there's a crossover into the wedding world and lots of brides and maids are embracing this colourful trend. Choose gowns for your maids that complement your style for a beautifully coordinating look.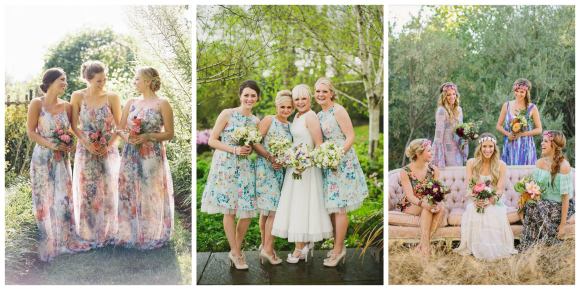 Another great high street to wedding day trend has been the rise of stunning separates for bridesmaids instead of the traditional dress. What's so great about this look is that it can be as glamorous, as elegant or as bold as you want it to be. Long skirts or short skirts coupled with any style top you like gives a really fresh and individual twist to the usual all-in-one gown.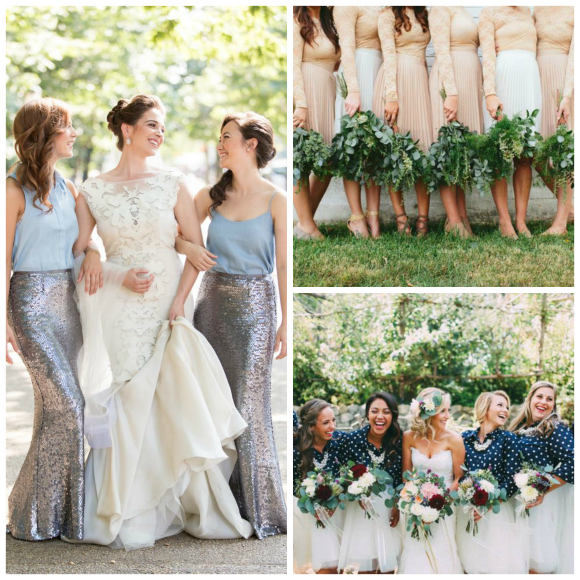 I also have to mention two bridesmaid trends that really look like they're here to stay and I couldn't be happier because I love both sequins and the pretty mismatch look. Sequins absolutely tick all of the boxes in terms of glamour, sparkle and metallic-inspired details whilst the mismatch look brings added colour and depth to the style of your wedding party and allows your maids to dress in a colour that suits them best. What's not to love?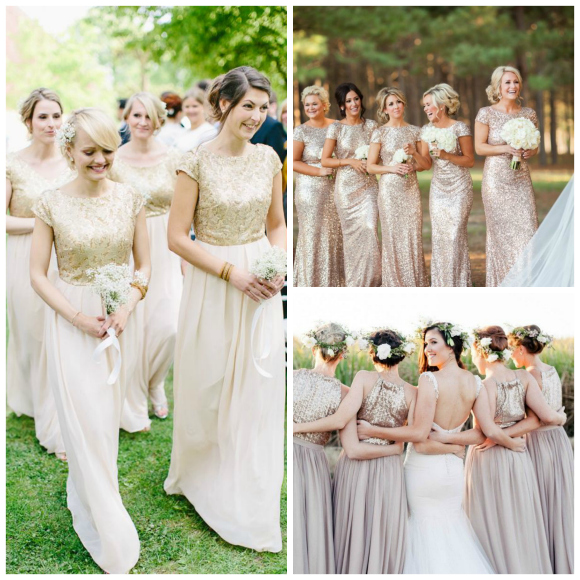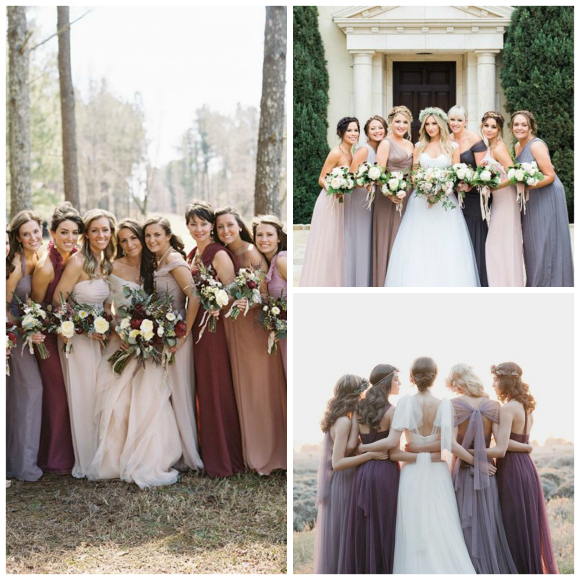 Obviously, I'm a huge fan of beautiful accessories for bridesmaids (as well as brides!) and bouquets for bridesmaids get more beautiful by the day. Wild, natural bouquets are still so popular but I'm seeing more and more Baby's Breath posies and stunning wrist corsages featuring large statement blooms. Also, our love of flower crowns seems to be spilling over into floral necklaces so expect more on this new trend soon…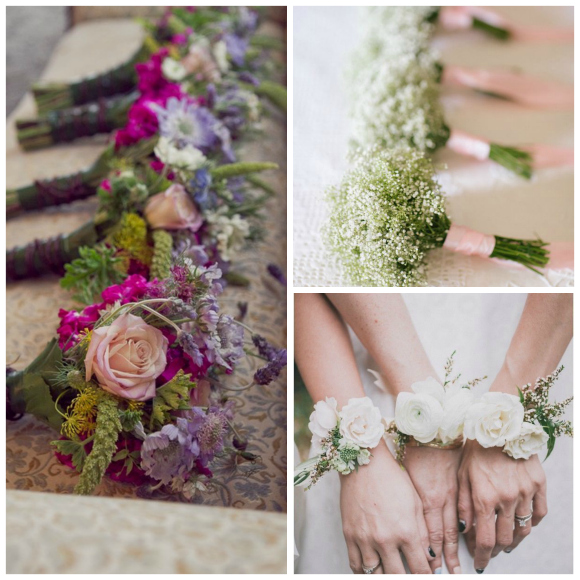 As I've mentioned floral crowns, I have to share some of the gorgeous botanically inspired options that are proving incredibly popular with our clients this summer. Floral hair combs featuring silk flowers, floral beaded hairpins and headbands embellished with metallic leaves and Swarovski elements are the perfect, long-lasting alternatives to fresh flowers and I know our brides and maids are so in love with these right now.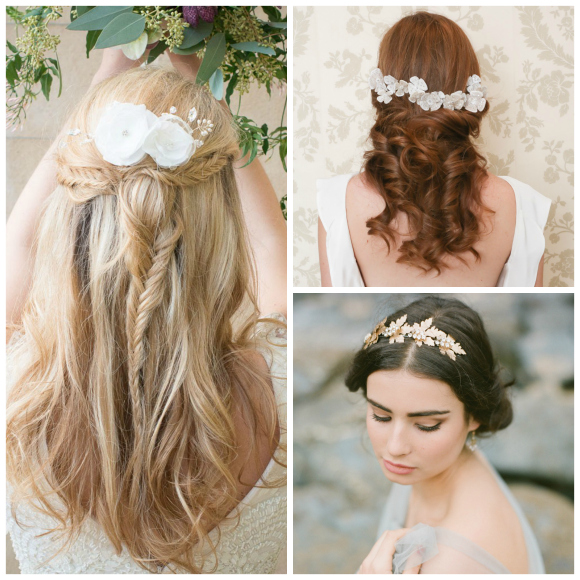 Also making everyone's hearts beat faster this year are dazzling accessories. From headbands, hair vines, bracelets, earrings and necklaces to glitter heels and sparkling shoes in all styles from contemporary to vintage, it seems we just can't get enough of these bright and brilliant finishing touches.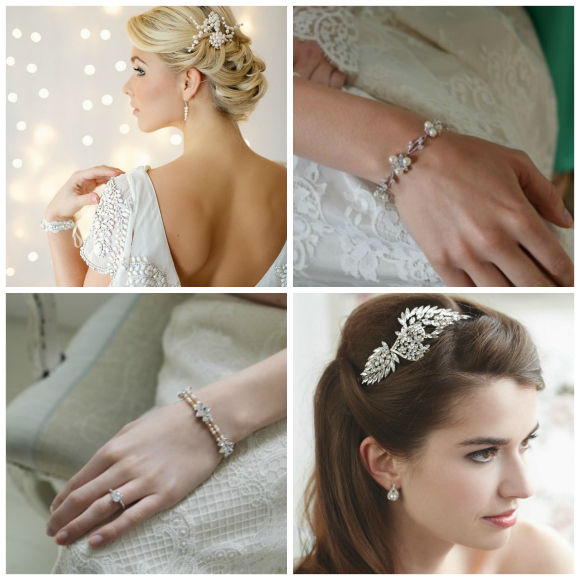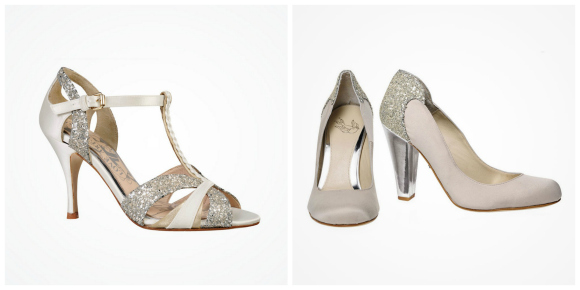 I can't finish this feature without mentioning some fun and feminine gift ideas for bridesmaids too. Firstly, I think a luxurious wrap makes a great gift – it's practical to wear on the morning of the wedding during hair and make-up and it's also an indulgent treat for your best friends. A bridesmaid tote bag is also a brilliant gift and if you're feeling generous, why not fill it with lots of little treats that you can all enjoy during those bridal preparations? In fact, why not include a little bridesmaid kit containing all the essentials for the day as well – your maids will love you for being so thoughtful!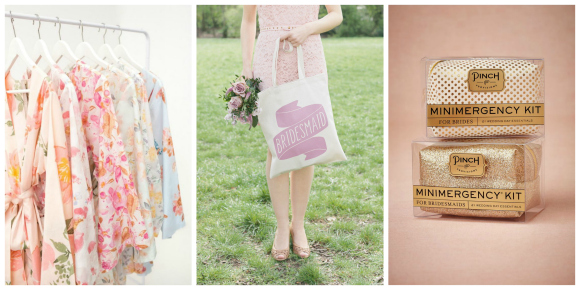 As you can see, it's a simply marvellous time to be a bridesmaid so, if anyone needs an extra maid, don't hesitate to ask!
 Love,
Tabby x
Credits:
Patterned Bridesmaids: Left – via Southern Weddings Centre – via One Fab Day Right – via Wedding Chicks
Bridesmaids Separates: Left – via Style Me Pretty Top Right – via Green Wedding Shoes Bottom Right – via Green Wedding Shoes
Sequin Bridesmaids: Left – via Ruffled Top Right – Archetype Studio Bottom Right – via Pinterest
Mismatch Bridesmaids: Left – via Magnolia Rouge Top Right – via The Knot Bottom Right – via Brit + Co
Bridesmaids Flowers: Left – via Boho Weddings Top Right – via Wedding Chicks Bottom Right – via Edyta Photography
Bridesmaids Hair Flowers: Left – Flora Duo of Blooms Hair Comb by Chez Bec at Liberty in Love Top Right – Secret Garden Hairpins by Emmy at Liberty in Love Bottom Right – Golden Ivy on Alice Headband by Stephanie Browne at Liberty in Love
Bridesmaids Accessories: Top Left – Goddess Hairpin by Victoria Fergusson at Liberty in Love Top Right – Waterlily Pearl Bracelet by Ivory & Co at Liberty in Love Bottom Left – Love Pearl and Sand Opal Crystal Bracelet by Victoria Fergusson at Liberty in Love Bottom Right – Amaryllis Heart and Leaves Headband by Rainbow Club at Liberty in Love
Bridesmaids Shoes: Left – Scarlett by Love Art Wear Art at Liberty in Love Right – Lara Glitter Heels by Love Art Wear Art at Liberty in Love
Bridesmaids Gifts: Left – via Plum Pretty Sugar for BHLDN Centre – Bridesmaid Tote in Rose by Alphabet Bags at Liberty in Love Right - BHLDN