July 08, 2016
How to guides
Get Crafty! Five Fabulous Wedding DIYs To Try
June really is one of my favourite months and I have to say that it's made even better by the fact the sunset is a later and later every evening. To me, these beautifully long days just cry out to be filled with lovely things and my creative soul can't pass up the opportunity to spend a little time crafting in the gorgeous natural light. There's something so deeply satisfying about making and that feeling grows beyond all proportion when you're creating for your wedding. I've pulled together some of my absolute favourite wedding DIYs for this feature and whether you're new to the world of wedding DIY or if you're an expert crafter, there's something here for you. Enjoy yourself!
Firstly, let's give a little cheer because balloons are definitely back on the wedding scene. From the big and tasseled like those from the girls at Bubblegum Balloons to smaller, cuter pops of colour, I love balloons right now. However, I also know that even wonderful things can often be made a better when you lavish a little time on them. So, here are two really simple wedding DIYs that take the humble balloon to another level of greatness. Firstly, gold brushed balloons couldn't be easier or more effective and, if you're following the metallic trend, these are absolutely perfect. It's a three-step process that just involves balloons, paint, a brush and some gloves. Ideal DIY! Another take on this idea would be confetti-dipped balloons and again, the result is so great, no one would imagine it could be so simple!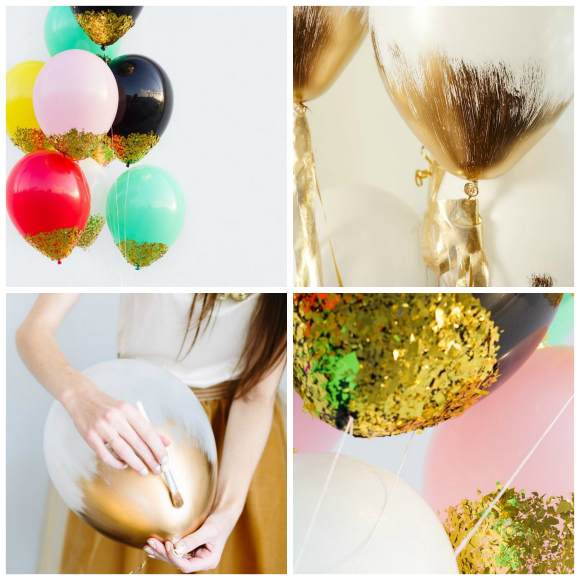 I think that big, easy-to-read seating plans at weddings are a must if you want your guests to all find their seats easily. These seating charts are all ones that you can make yourself with a little time and effort. Whether you're stretching wire across a wooden frame and adding printed table details and floral accessories or attaching charming frames to an old pallet, you can make something unique and beautiful for your big day. Why not add in some family photos to make it a truly attention grabbing display?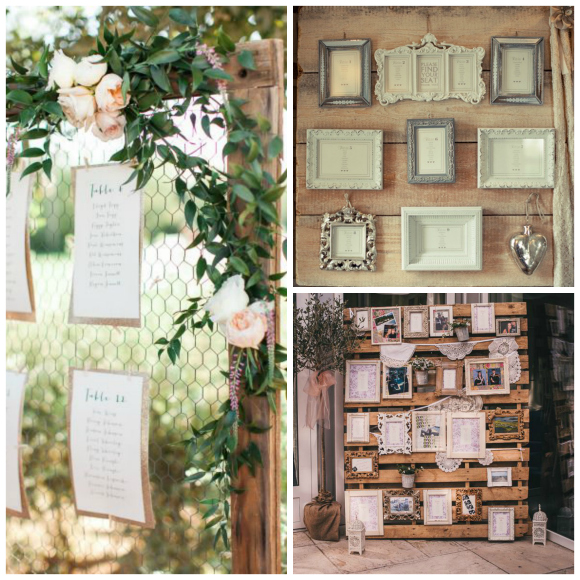 I adore the thought of a wedding being a feast for all the senses so including heavenly scented herbs in your décor is another effective and easy DIY. Tying bunches of thyme, rosemary or your favourite herb onto twine or ribbon creates a delightful garland that will absolutely smell as good as it looks. Use florist wire to join bunches together to make a fantastic table runner or chair back and you could also add some lavender or even a few blooms to bring colour to your DIY.
Geometric shapes and bright colours are another wedding favourite and you can really have some fun with DIY here. Why not use neon washi tapes or brightly coloured streamers to create a super-simple yet amazingly effective backdrop? Just stretch them across walls or even use them to decorate plates, vases, cutlery or chairs and you'll be on trend in no time! Three-dimensional decorations are also easier to create than you might think and this hexagonal box backdrop might be one of my favourites. It might take a little time to paint the boxes and set them up by my goodness, the finished effect is well worth the effort! If painting is your thing then a hand painted fabric backdrop could be similarly brilliant. Lay your fabric flat, use wide masking tape to create your pattern and paint inside the shapes. When everything is dry, peel off the tape and admire your creation!

Lastly, as I love to give gifts, I just had to include a wedding favour DIY in this feature and filled jars are great fun to make and gratefully received! Fill your jars with whatever goodies take your fancy and then decorate to suit your theme. You could cut out circles of pretty papers to cover the lid or handwrite messages on the tops if your wedding is more rustic in flavour. As an alternative, decorate the bottles with fabric, butchers twine, washi tape or even with labels so the jar can double as a place marker. Get creative!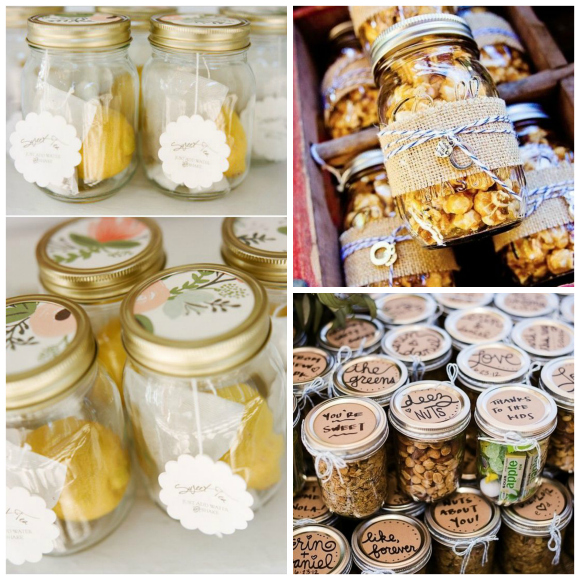 Anyway, I do hope you have fun with some wedding DIY and that getting in touch with your creative side makes you smile – it certainly never fails to make me happy.
Love, Siu x
Credits:
Balloons: Top Left & Bottom Right via Studio DIY Top Right via Pottery Barn Kids Bottom Left via Intimate Weddings
Seating Plans: Left via Style Me Pretty Top Right via Betsy Button on Brides Up North Bottom Right via Love My Dress
Herb Décor: Left via Style Me Pretty Top Right via Gorgeous Bottom Right via Once Wed
Geometric Backdrops: Top Left via Ruffled Top Right via 100 Layer Cake Bottom Left via Brooklyn Bride Bottom Right via A Practical Wedding
Mason Jar Favours: Left via The Wedding Chicks Top Right via MOD Wedding Bottom Right via Ruffled