Haute hippy wedding celebration
I'm absolutely being influenced by the wonderful midsummer vibe at the moment and the prospect of a long summer full of festivals, outdoor excursions and maybe even some glamorous camping has inspired this feature. Haute Hippy is laid-back yet super luxurious. It takes the traditional elements of a wedding and gives them a boho twist. It's all about enjoyment and escapism from the every day world and what better excuse do you need for some indulgent time out with friends and family than your wedding?
There's no doubting that the great outdoors is a suitable setting for a Haute Hippy wedding so work with nature and style yourself a beautiful, natural space for truly unforgettable occasion. I love the idea of ribbon or fabric tents that are full of blankets and cushions to encourage everyone to linger. Why not use the trees as backdrops and hang lights, dream-catchers, hearts and other decorations from them? This is a wonderful way to include your colours and motifs in your styling.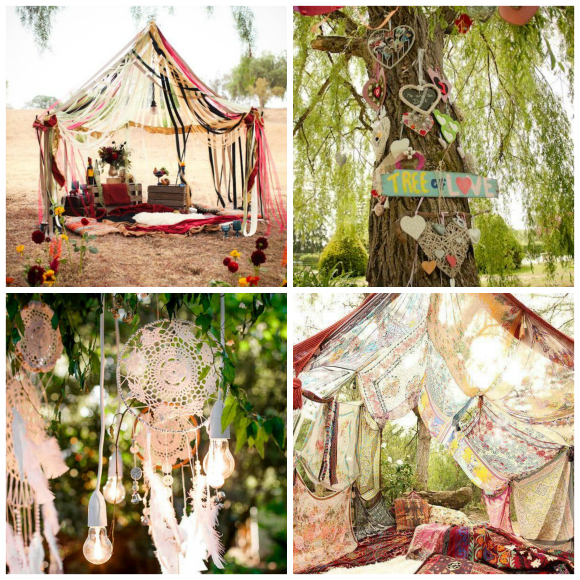 With a little planning, there's also no need to abandon your outdoor idyll when the sun goes down. Get the bonfires roaring and light up your space so the party can continue. Why not hang mismatched vintage lightshades from trees for a little extra eclectic interest?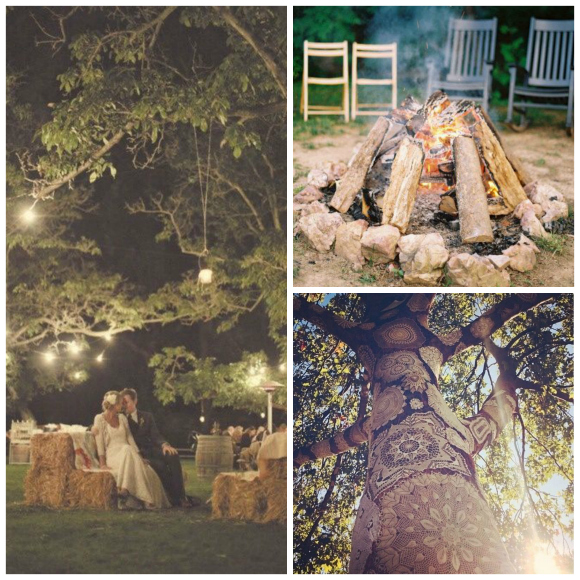 As much as I adore the thought of being outside, I'm also a realist and I know that you just can't trust the weather. However, there's no need to abandon your Haute Hippy dreams as there are plenty of venue options that will still suit your theme. Think yurts, tipis, tents and even barns strung with flags and decorated with wildflowers. You can still set up a little outside area for your guests if the weather's on your side.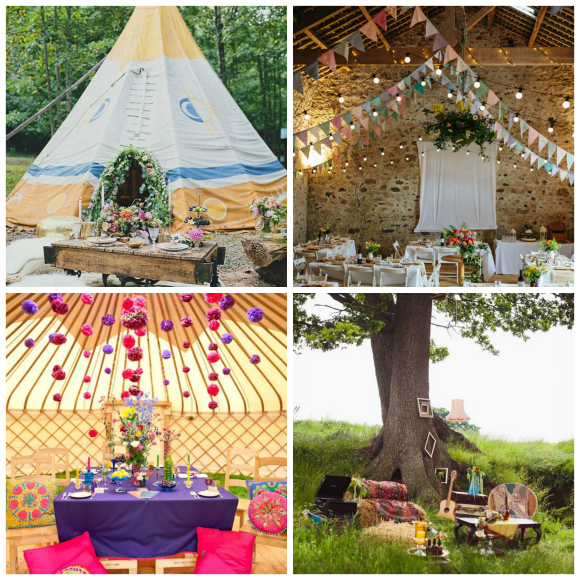 Looking at outfits, there's just so much choice. Boho style gowns look great for brides and maids. Unstructured, flowing designs are definitely the best choice here and how about carrying floral circlets as well as wearing flowers in your hair? Tumbling, undone hairstyles are just perfect and don't forget those all-important wellies!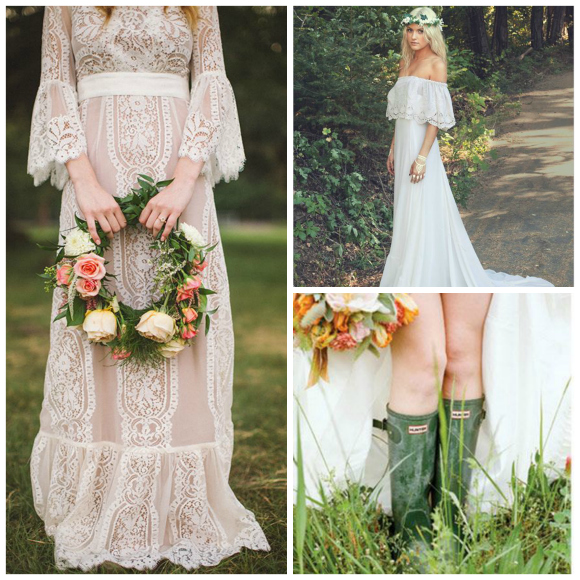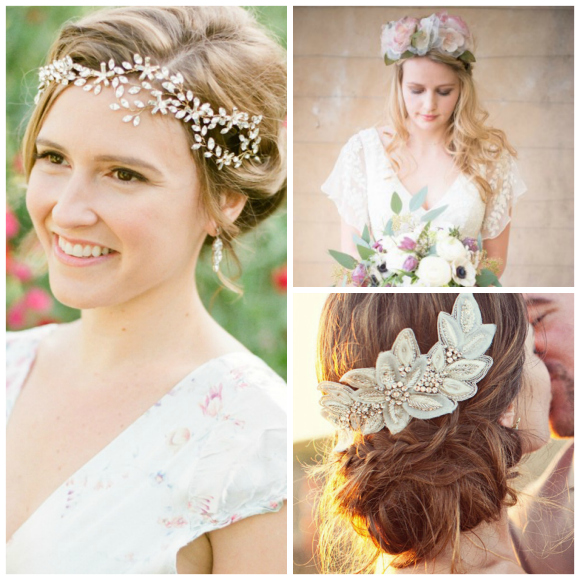 The Haute Hippy look also gives you lots of options when it comes to bridesmaids. For a truly unique look, mix long and short gowns with separates and let your maids pick something that suits their style. This is the ultimate in freedom! Alternatively, opt for understated short dresses (worn with pretty flat sandals) and sweet embroidery or broderie gowns for flowergirls. Of course, bouquets and buttonholes need to be simple, hand-tied and full of wildflowers.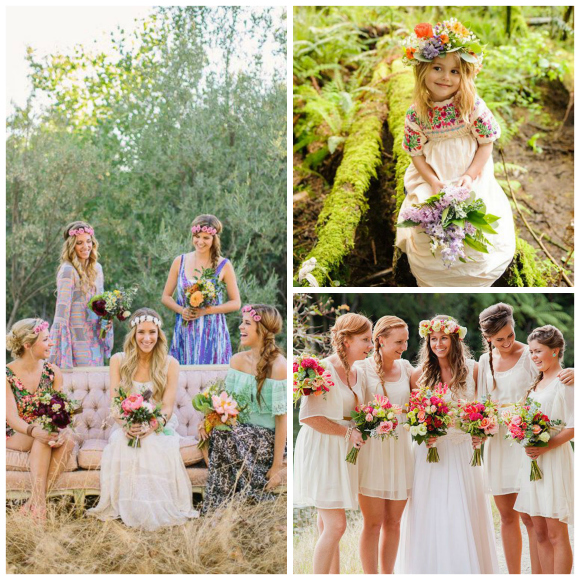 Definitely have some fun with your food and drink too. Get in touch with the festival vibe and bring in gourmet food trucks to serve your guests. Say goodbye to nasty fast food and instead indulge with treats such as seafood, freshly cooked crepes, organic salads and meats, towering cheese 'cakes' or whatever takes your fancy. Don't forget signature cocktails in beautiful glassware – this is festival-luxe after all!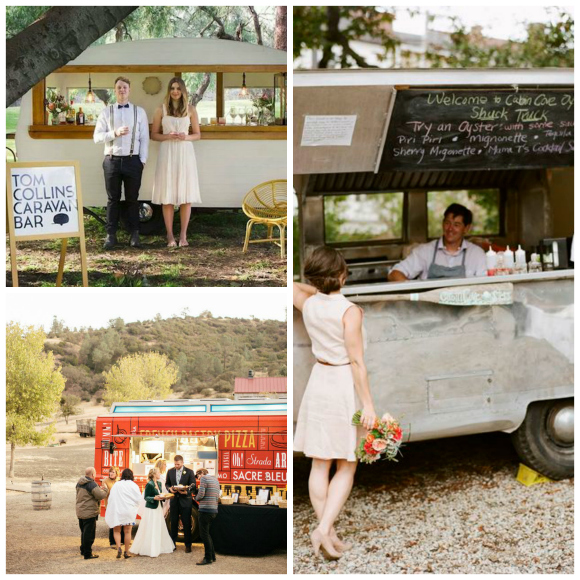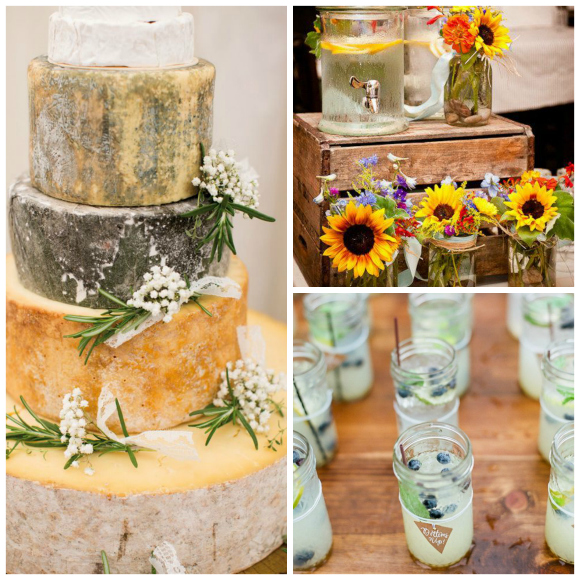 You can really go to town with details for your Haute Hippy wedding and you certainly don't need to worry about sticking too closely to a rigid colour palette or perfectly matched look. This is all about exuberance and fun so bring in plenty of colour, plenty of texture and plenty of everything. Abundant and joyful should be your styling watchwords!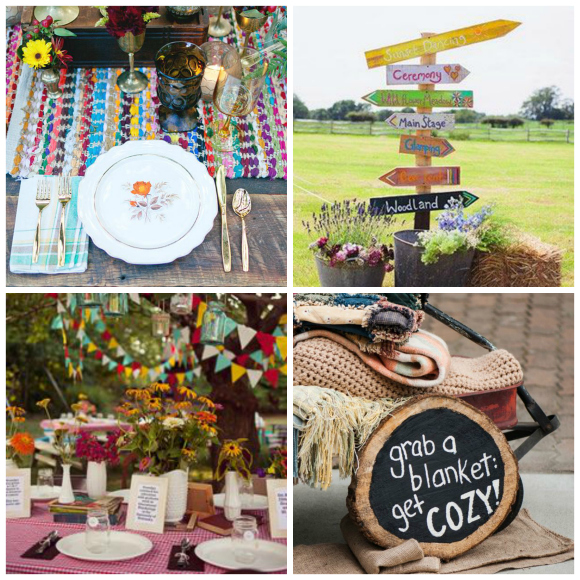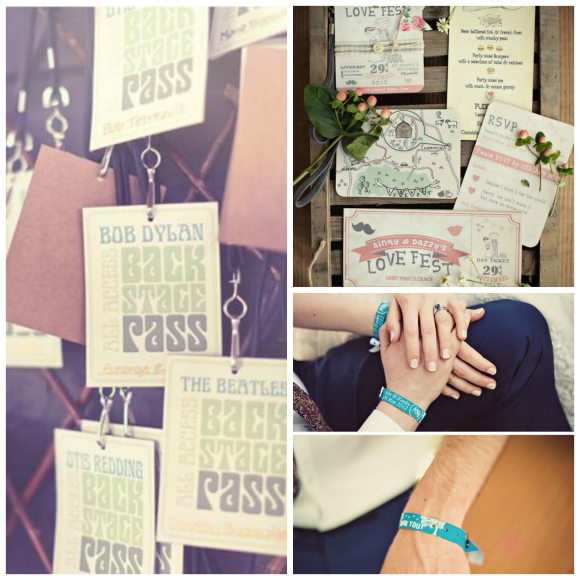 Take the best bits of festivals and work these into your wedding as well. How about wristbands for your guests or why not use faux backstage passes as fun seating plans, orders of the day or even place cards? Invitations in the form of tickets will give your guests an early clue of the fun they can expect at your absolutely wonderful Haute Hippy wedding.
Love,
Siu x
Credits:
Tents & Trees: Top Left – via When Geeks Wed Top Right – via Bridal Musings Bottom Left – via Hello May Bottom Right – via Weddbook
Night: Left – via Festival Brides Top Right – via Style Me Pretty Bottom Right – via Something Borrowed
Venues: Top Left – via Green Wedding Shoes Top Right – via Bespoke Bride Bottom Left – via Wedding Yurts Bottom Right – via Festival Brides
Brides: Left – via Magnolia Rouge Top Right – via The Wedding Chicks Bottom Right – via One Fab Day
Headdresses: Left: Sage Headpiece (Gold) by Untamed Petals at Liberty in Love, Top Right: Laura Silk Floral Crown by Chez Bec at Liberty in Love, Bottom Right: Bianca Beaded Floral Headpiece by Untamed Petals at Liberty in Love
Food Trucks: Top Left – via Bridal Musings Bottom Left – via Style Me Pretty Right – via The Sweetest Occasion
Food & Drink: Left – via Wedding Ideas Magazine Top Right – via Style Me Pretty Bottom Right – via Style Me Pretty
Details: Top Left – via Andi Mans Top Right – One Fab Day Bottom Left – via Tiny Anchors Bottom Right – via Something Turquoise  
Stationery: Left – via Ruffled Top Right – via Ruffled Bottom Right – via Festival Brides