Woodland wedding inspiration
I don't know about you but the longer, warmer days have absolutely made my heart sing and the urge to get out and about has just been overwhelming. I am utterly head over heels in love with all things natural and so, for my first wedding theme feature, I've chosen the rustic beauty of ancient woodlands as the source of my wedding inspiration.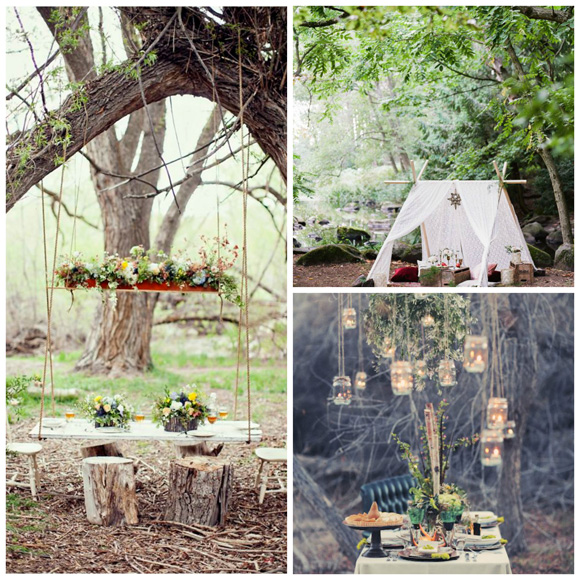 Let's start at the beginning and in terms of your colour palette, you certainly can't go wrong with earthy tones including greens, neutrals and fleck of bark-brown. The key here is to absolutely stick to the shades you'd find in the wild wood so brights and more acid green tones need to be saved for another day! Your woodland theme wedding should be a homage to nature.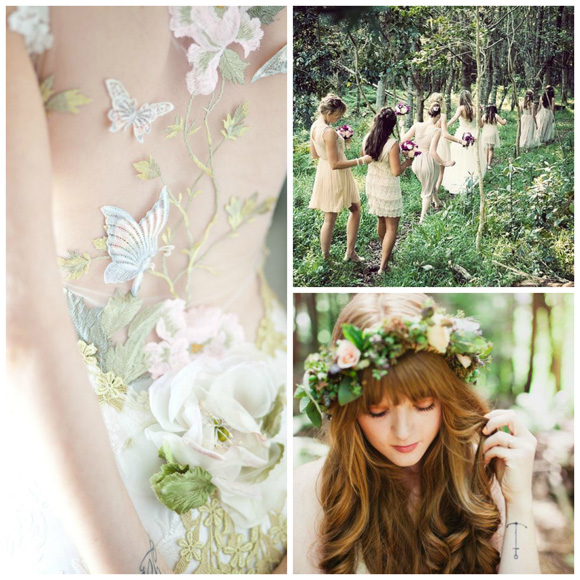 Flowing, unstructured gowns work perfectly so opt for a gown that whispers when you walk and one that you feel incredibly comfortable in. I have to admit that the embellished backs of the gowns from Claire Pettibone look amazing with this theme, as would one of the designs from a label such as Minna or Rembo Styling. You might like to choose flatter shoes if you've been lucky enough to find a true woodland setting for your ceremony or if you're heading into the woods for your reception, you can still wear heels for the formalities. 
When you're looking for your accessories, forehead bands and simple adornments will look fantastic and a long tulle veil will add an ethereal touch to your bridal outfit. Flower crowns are simply ideal for the woodland wedding or opt for a floral headband made from silk flowers such as Flora from Chez Bec or the enamelled petals and golden leaves of Fiorentina by Stephanie Browne.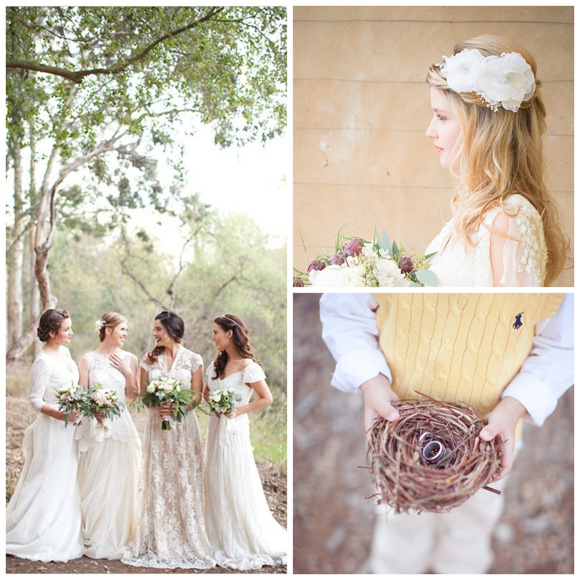 Organic shapes and motifs also need to take centre stage so think soft lines and curves rather than hard-edged angles. Laurel wreaths, leaves and petals make beautiful finishing touches to stationery and other styling elements.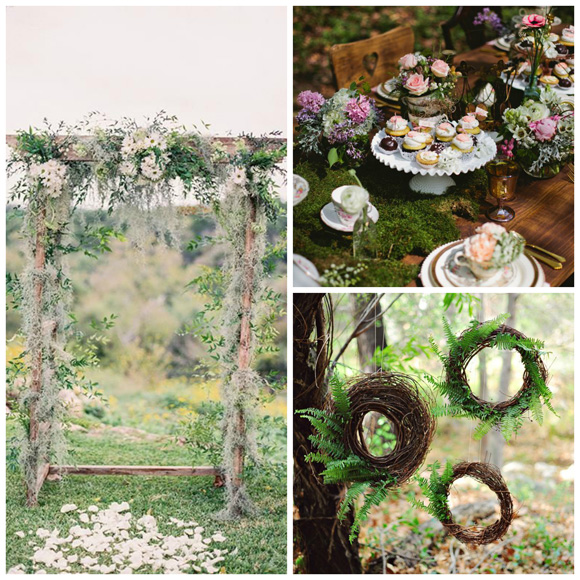 And what fabulous styling options are open to you when you're working with this wonderful theme! Cake stands and charger plates cut from wood and trailing, rambling floral arrangements are fabulous and what could be more darling than a specially made nest for your ring bearer to carry?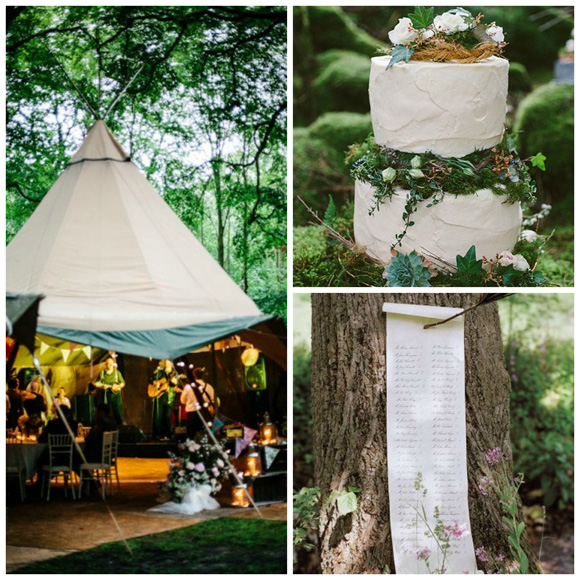 I also adore the idea of creating a special, secret entrance into your woodland hideaway. An arch covered with greenery or even an old door placed and left temptingly ajar for guests certainly conveys the message that what awaits is a setting unlike any other.
To continue the extraordinary experience, why not create the ultimate forest feast with 'tables' hung from branches and luxurious picnic areas aplenty. Don't forget to plan for darkness however and with a little planning, you can make the hours after the sun goes down magical and romantic. Candles hung in jars or in hurricane lanterns on tree stumps look amazing (do consider artificial alternatives if there's even the slightest risk of fire) and battery or solar powered lights can also add to the atmosphere. If it's safe, a campfire is a truly fabulous centerpiece and don't forget torches or lanterns to help you guests find their way home when their time in the enchanted wood comes to an end.
Love,
Siu x
Credits
Collage One – Main Image: Le Magnifique Blog Top: Green Wedding Shoes  Bottom: The Frosted Petticoat
Collage Two – Main Image: Style Me Pretty Top: The Pretty Blog  Bottom: Green Wedding Shoes
Collage Three – Main Image: The Wedding Chicks Top: Chez Bec on Liberty In Love Bottom: Ruffled
Collage Four – Main Image: Magnolia Rouge Top: Ruffled Bottom: Ruffled
Collage Five – Main Image: Boho Weddings Top: Fly Away Bride Bottom: Martha Stewart