This time of year is absolutely one of my favourites and when everything is looking so lush and beautiful, it's no wonder that spring tends to mark the start of 'the wedding season'. With bank holiday weekends, longer days and the promise of brighter, warmer days, it's a wonderful time for a wedding. However, the weather isn't always on our side during spring but let me reassure you right now that whatever happens on your wedding day, it's all going to be just fine…
We've just been through a little period of beautifully warm weather and fingers crossed; this is exactly what you get on your spring wedding day. As perfect as these balmy days might seem, there are still a few things to keep in mind. Firstly, when the temperature starts to rise so early in the year, we're often not prepared! Guests might have chosen warmer outfits so make sure that there's plenty of shade and plenty of cooling drinks on hand. Also, your skin won't be used to the sun either and your wedding day isn't the day to burn. I'd suggest some sunscreen and a beautiful light little cover-up or wedding parasol to help you keep your cool.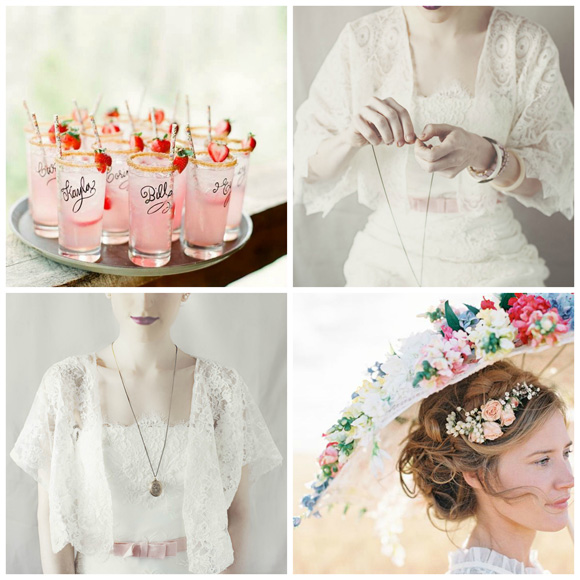 On the other hand of course, it might be chillier than you expect and even if the days are warm, the moment the sun disappears, the temperature drops. Stay snug and make the most of the outdoors with lots of warming details. I'd certainly recommend a gorgeous feather bridal bolero from JL at Liberty in Love as you won't find a more stylish way of keeping any cold breezes at bay. I also love the thought of piles of blankets for guests to use in the evenings, especially if you want to linger under the stars.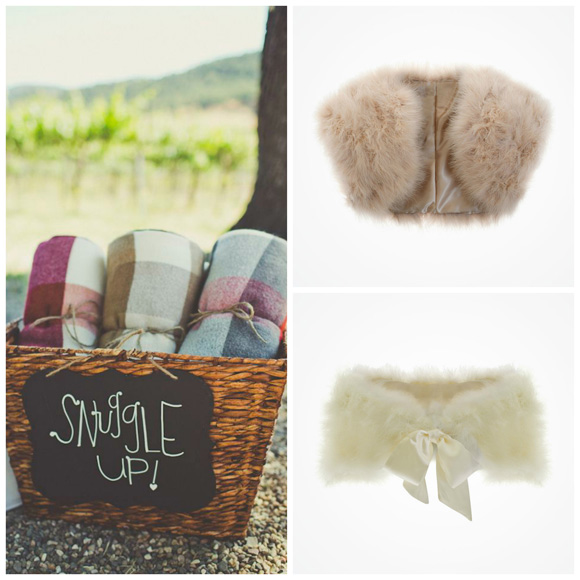 Spring showers are definitely a part of life here in the UK and they can appear without warning sometimes! It might be a good idea to have an umbrella or two to hand so you're prepared whatever happens and if the forecast really isn't looking favourable then why not embrace the elements and pull on some quirky wellies? Save your beautiful shoes and wear them when you're safely inside.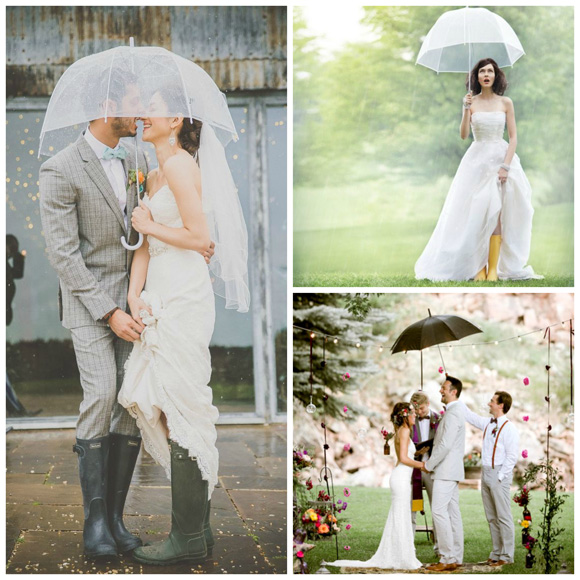 Another feature of springtime weather can be gusts and breezes and Shakespeare was certainly right when he wrote that 'rough winds do shake the darling buds of May'! Whilst this can be great for creating those beautifully atmospheric shots where your veil is blown out behind you, you don't want it wrapping itself around you during the group shots so my favourite trick is to use an ordinary clothes peg to just secure your veil to the back of the dress to keep in under control! If you're planning on being outside on a breezy day then certainly speak to your hairdresser so your hair keeps its style all day long and with our range of bridal hair pins and clips, you know it's going to look amazing!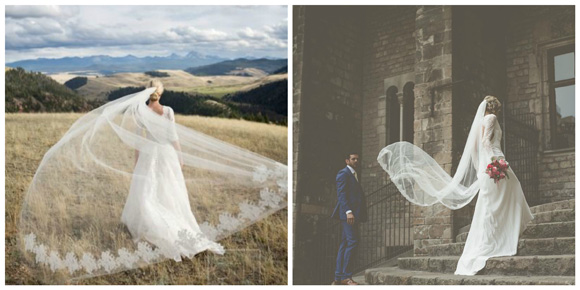 In short, don't worry about the weather – there's always a silver lining!
 Love,
Tabby x
Credits:
Collage 1 –
Top Left: Cocktails via Brit + Co
Top Right: Lola Vintage Lace Bridal Jacket by Wilderness Bride on Liberty In Love  
Bottom Left: Luna Floral French Lace Bridal Jacket by Wilderness Bride on Liberty In Love Bottom Right: Parasol via Elizabeth Anne Designs
Collage 2 –
Left: Snuggle Up Blankets via Bridal Musings
Top Right: Champagne Feather Bridal Bolero from Liberty In Love
Bottom Right: Ivory Feather Ribbon Tie Bridal Stole from Liberty In Love
Collage 3-
Left – Couple in the Rain via Rock My Wedding
Top Right – Bride in Wellies via Burnett's Boards
Bottom Right – Ceremony Umbrella via Our Love Is Loud
Collage 4 –
Left – Bride & Veil via Style Me Pretty
Right – Bride & Groom via Rock My Wedding