December 07, 2016
Inspiration
Rustic romance – a luxe winter wedding theme
Winter is such a romantic time of year for a wedding. There's always magic in the air at Christmas and festive weddings are just so special. We can't resist luxurious rustic celebrations so as an early Christmas gift, we've gathered together our favourite winter wedding ideas for this feature. It might well make you wish it could be Christmas every day!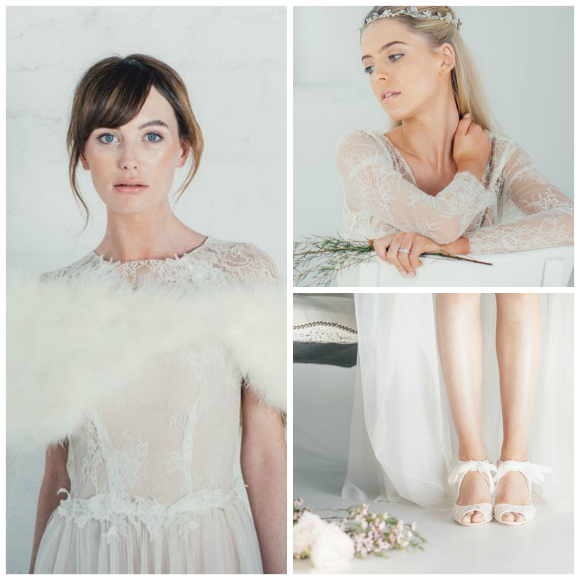 We simply have to start with bridal accessories and for your winter wedding, you've got the perfect excuse to indulge. A beautiful bridal cover-up is an absolute must-have and our feather stoles look amazing over every style of gown plus they'll keep you cosy all day long. Wedding hair accessories and jewellery should sparkle and glint like frost in the early morning and Halo & Co's Boho pearl blossom circlet ticks all the boxes for your rustic luxe look. Lastly, let's talk wedding shoes and Harriet Wilde's Marlow booties couldn't be any prettier.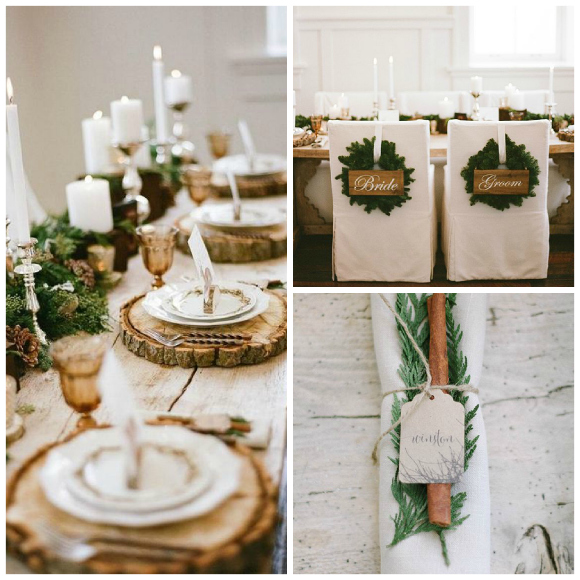 Now let's turn our attention to the styling of your festive wedding. Fir trees, pinecones and plenty of natural accessories really do need to be a big part of your plans. Bare wooden tabletops look delightful with wood slice charger plates as does glassware and cutlery in earthy tones and long table runners created from foliage and accessorised with an array of candles. Foliage really is a fabulous option for winter weddings – not only is it super seasonal, it's also really cost effective, particularly as flowers can be surprisingly expensive during the holidays.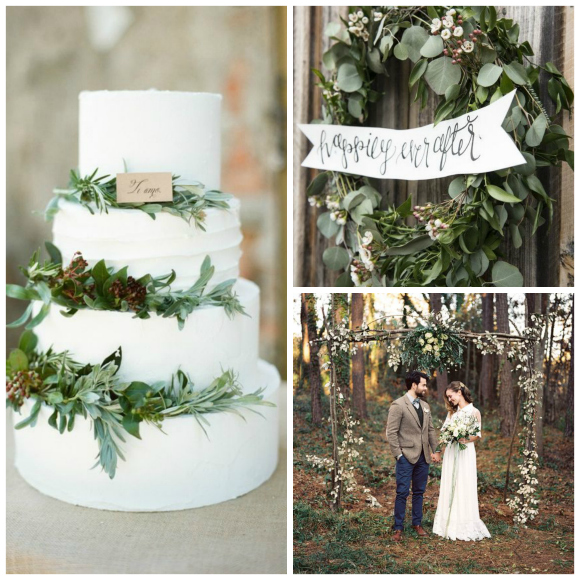 Crisp white is the perfect partner to winter green so include flurries of this snowy shade throughout your day to lift the look. A pure white cake is always utterly delicious, particularly when you use more festive foliage as a finishing touch. Wreaths are so closely linked with Christmas décor that you really must include them in your wedding and why not create a statement with a ceremony backdrop or wedding arch with white blooms and foliage? Don't forget to include a bunch of mistletoe for added romance!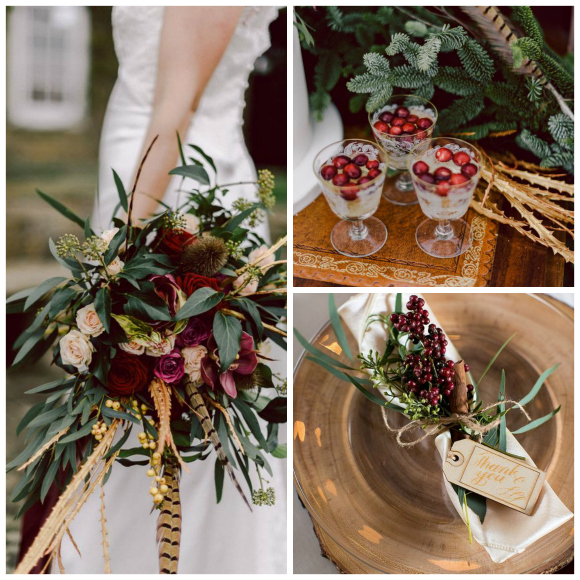 If you'd like to add warmer touches to your winter wedding then flecks of deep red work brilliantly. You'll only need a few additions of colour to make a big impact. We love velvety red roses in bouquets, cranberry garnishes to signature cocktails and hedgerow berries with seasonal herbs dressing napkins and place settings on tables. Use your reds sparingly as a decadent accent colour so that it looks ultra luxurious.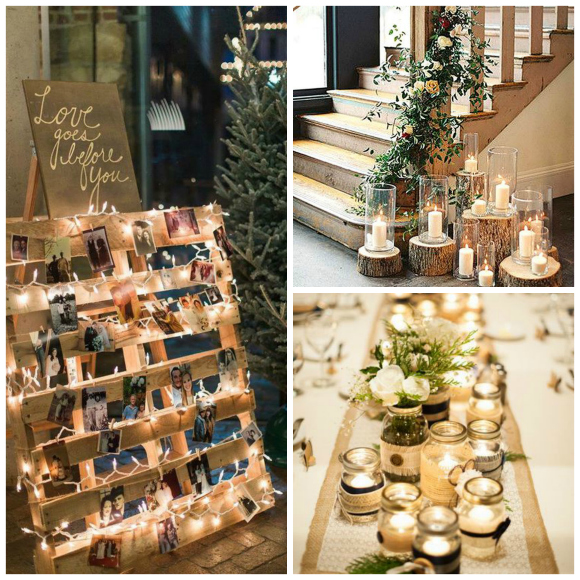 In our opinion, winter weddings need oodles of romantic lighting and fairy lights will create the perfect festive atmosphere. Make a focal point of family photographs with an old wooden pallet or over-size frame and dress it with fairy lights or build candle displays around staircases, fireplaces or alongside your cake table. There's no such thing as too much twinkling light in winter!
Now all you'll need for the perfect winter wedding is a fresh fall of snow and perhaps a visit from a certain seasonal character dressed in red…
Credits:
Image 1: Left – Ivory feather bridal stole from Liberty in Love Top Right – Boho pearl blossom circlet by Halo & Co from Liberty in Love Bottom Right – Marlow booties by Harriet Wilde from Liberty in Love
Image 2: Left – via Deer Pearl Flowers  Top & Bottom Right – Jacque Lynn Photography on Hey Wedding Lady
Image 3: Left – via Stylecaster Top Right – Two if by Sea on Rustic Wedding Chic Bottom Right – Noi Tran Photography on Burnett's Boards
Image 4: Left & Top Right – Chris Scuffins Photography on Rock My Wedding Bottom Right – Leigh Skaggs Photography on Tidewater & Tulle
Image 5: Left – via Rock My Wedding Top Right – via Wedding Forward Bottom Right – via Deer Pearl Flowers