January 09, 2017
Inspiration
Rose gold wedding inspiration
If there's one metal that we're going to be seeing a lot more of in 2017, it's rose gold. This super pretty, soft pink shade is so on trend and all of us at Liberty in Love adore it! Today, we've taken some of our favourite rose gold wedding accessories and added in some great ideas to create our ultimate guide to gorgeous rose gold weddings…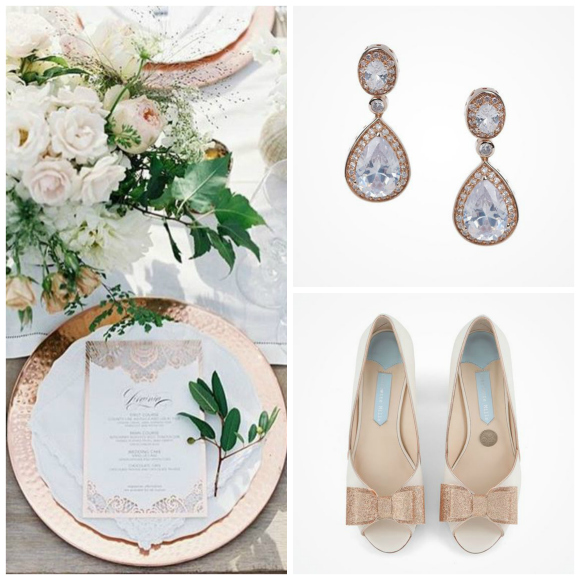 So, why will rose gold be so popular over the coming twelve months? Well, not only is it luxurious and elegant, it's also delicate and delightfully feminine. The wider wedding world also loves metallic tones so it's no surprise that rose gold is the metal of the moment.
Of course, we have to start this feature with wedding jewellery and we've got a fabulous selection here at Liberty in Love. Stephanie Browne's Bond Street drop earrings are everyone's favourite and they're perfect to wear post-wedding. Charlotte Mills' fabulous wedding shoes are always popular and Becky in rose gold are achingly on trend. Rose gold bows, soft ivory leather and a silver sixpence set into the shoe itself – what more could you ask for?
Designers such as Chez Bec and Victoria Fergusson also include rose gold pieces in their current wedding jewellery collections so whether you're looking for stylish wedding necklaces or bracelets, you'll find them at Liberty in Love.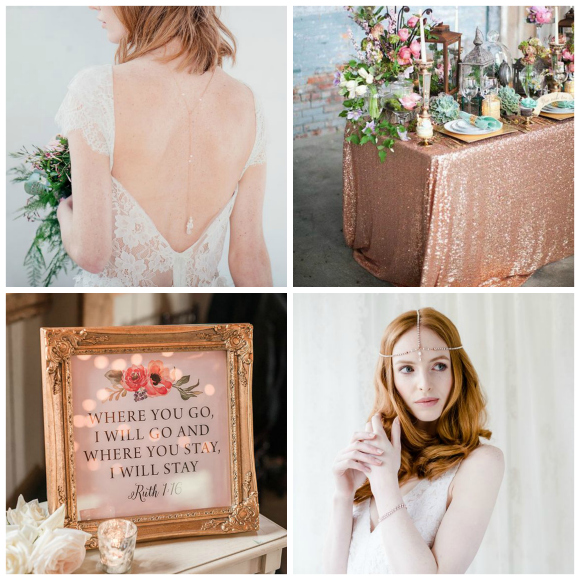 Away from beautiful wedding accessories, there are so many ways that you can incorporate rose gold into your wedding day plans. How about hiring pretty charger plates or cutlery to adorn your tables or add a little fun with giant rose gold letter balloons. Pale pinks, blush and cream tones sit really well in a rose gold palette and somehow, the gentle shades make the metallic pop even more. These soft shades are also wonderful as we move towards spring.
A rose gold wedding theme really needs a little bit of sparkle so it's time to bring out the sequins and glitter! Sequined tablecloths make a big impact and again, you can hire these and we'd suggest using your sequined cloth on your cake table or similar for maximum impact. You could continue the sparkly theme with your cake itself, your bridesmaids' dresses or even with a bit of wedding DIY. Take a quick look on Pinterest and you'll find tutorials to make glittered table numbers, wedding favours and much more.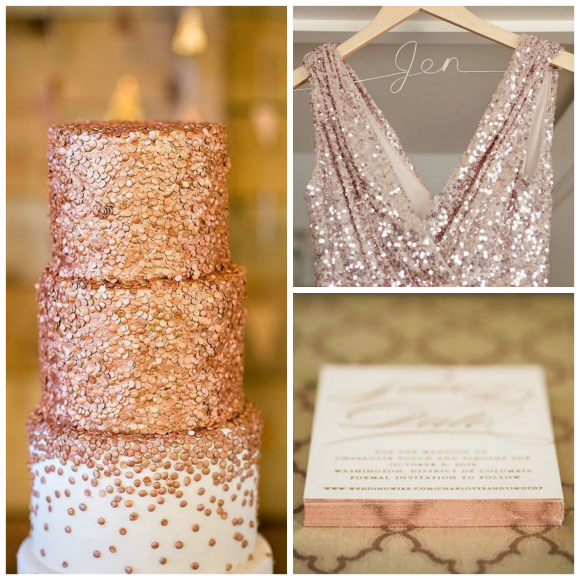 Rose gold really is top of our lust list at the moment and with so many amazing accessories and excellent ideas, we have absolutely no doubt that we'll see many more rose gold weddings in 2017. We can't wait!
Credits:
Image 1: Left – via Pinterest Top Right – Bond Street drop earrings by Stephanie Browne from Liberty in Love Bottom Right – Becky in rose gold by Charlotte Mills from Liberty in Love
Image 2: Top Left – Pandora backdrop necklace by Chez Bec from Liberty in Love Top Right – DH Gate Bottom Left – Audrey Rose Photography on Hey Wedding Lady Bottom Right – Crystal rose gold bracelet by Victoria Fergusson from Liberty in Love
Image 3: Top Left – Blush Wedding Photography on Style Me Pretty Top Right – Etsy Bottom Left – Etsy Bottom Right – Etsy
Image 4: Left – Rachel Peters Photography on The Perfect Palette Top Right – Emmaline Bride Bottom Right – Maria Vicencio Photography on WeddingWire