November 03, 2016
Inspiration
Autumnal elegance – a cranberry & dusty blue wedding theme
Oh autumn, you're such a beautiful season and it's really no surprise that so many weddings now take place during this super pretty time of year. At Liberty in Love, we're crushing on cranberry and dusty blue colour palettes for autumn weddings so, before we wave winter in, we just had to share this feature with you. So, let's say hello to autumnal elegance…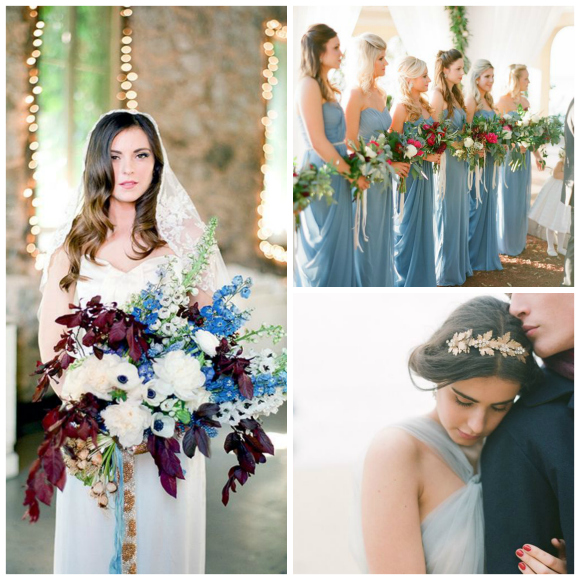 There's just so much about this colour scheme and overall wedding look to love. The berry red tones couldn't be more perfect for this time of year whilst the dusty blue adds another layer of interest and a cooler, almost wintery feel, to the palette. This theme also works so well for weddings of all styles from rustic to city chic, boho to traditional. You can absolutely make it anything you want it to be and, when you add some warm golden accents to the look, it's downright perfect.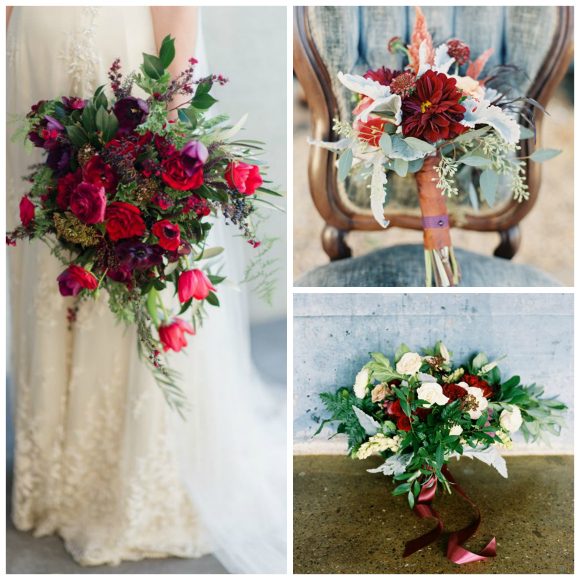 Bouquets, buttonholes and floral arrangements are also gorgeous in these colours. Rich red flowers (including dahlias, our autumnal favourites) look oh-so amazing when you mix a variety of tones and shapes in with some crisp silvery blue foliage. Add in feathers, seed heads, succulents or berries for more autumnal brilliance and trailing ribbons will catch the breeze in a way that will make you yearn for a blustery day!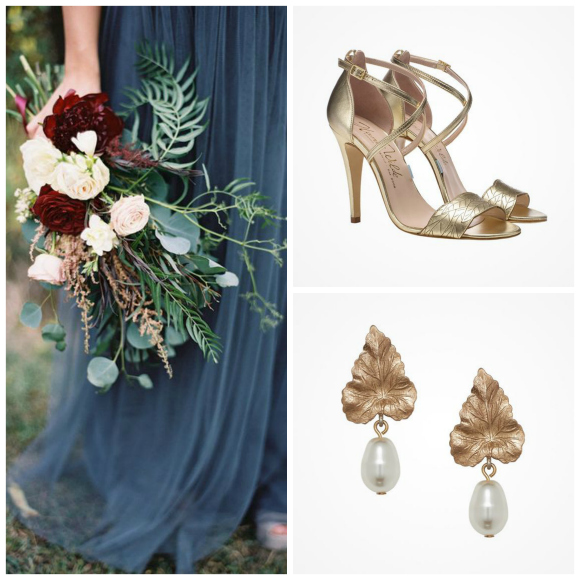 The cranberry and dusty blue colour combination also allows us to swoon over beautiful blue wedding gowns. The ethereal combination of eye-catching blue tulle really can't be beaten if you'd like to make a statement. Liberty in Love will also make sure that you're spoiled for choice with coordinating golden accessories. Our edit includes fabulous Ivana sandals from Harriet Wilde (we love the metallic leaf laser design) and Stephanie Browne's delightful Gloria pearl drop earrings continue the seasonal botanical theme. You'll have already seen Stephanie Browne's Golden Ivy bridal headpiece in the first image in this feature and industry insiders and brides alike love this delicate piece.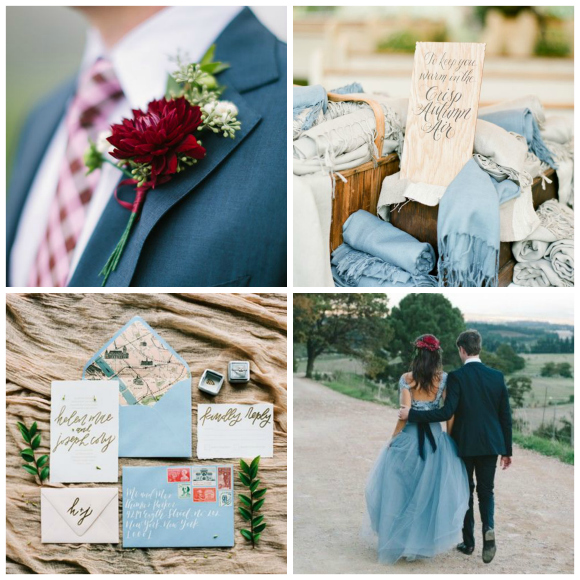 When it comes to decorations and details, the world is your oyster with this colour theme. Obviously grooms and guys look deliciously dapper in blue suits but how about providing big baskets of dusty blue wraps and scarves for your guests in case there's a chill in the air? We love blue invitations and day-of stationery, especially when there's a hint of golden calligraphy too.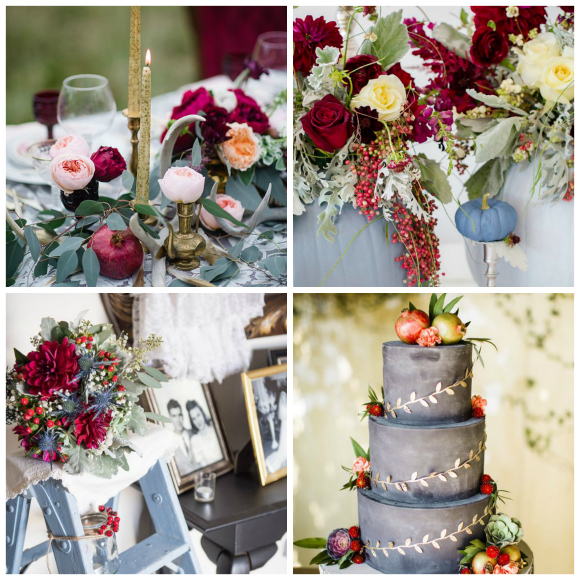 Finally, an autumn wedding really wouldn't be complete without a hint of harvest abundance. Fill your tables with flowers and foliage and then use fruits and berries as finishing touches. Use more to adorn your cake or even fill painted pumpkins with more flowers. If you're using bigger props, a coat of suitably coloured paint will bring your look together or bring in some golden containers and candles for added luxury.
A cranberry and dusty blue autumn wedding really is a feast for the senses!
Credits:
Image One: Left – Samantha Kirk Photography on Hey Wedding Lady Top Right – Justin DeMutiis Photography on Style Me Pretty Bottom Right – Golden Ivy on Alice by Stephanie Browne from Liberty in Love
Image Two: Left – Natalie McNally Photography Top Right – via Wedding Chicks Bottom Right – Jessica Gold Photography on Ruffled
Image Three: Left – Clark Brewer Photography on 100 Layer Cake Top Right – Ivana Sandals by Harriet Wilde from Liberty in Love Bottom Right – Gloriana pearl drop earrings by Stephanie Browne from Liberty in Love
Image Four: Top Left – via BRIDES Top Right – Heather Waraksa on Style Me Pretty Bottom Left – Jessica Gold Photography on Ruffled Bottom Right – DNA Photography on The Pretty Blog
Image Five: Top Left – Emily Millay Photography on Ruffled Top Right – via Pinterest Bottom Left – Melissa Sigler Photography on The Knot Bottom Right – Betsi Ewing Studio on Style Me Pretty