February 02, 2017
Inspiration
The modern bride's guide to something old, something new, something borrowed, something blue
Of all wedding traditions, 'something old, something new, something borrowed, something blue' has really stood the test of time. Today's brides bring a big dose of modern style to this lovely wedding custom and we've gathered together some of our favourite ideas for you so that you can add your own personal twist.
However, before we dive into the inspiration, let's just take a little look at the meaning behind the rhyme. The items that you choose are said to be good luck charms so something old represents continuity whilst something new symbolises your hopes for the future. Something borrowed lets you 'borrow' good wishes from others and blue stands for love, purity and faithfulness. Finally, if you'd like extra luck for good fortune, add a silver sixpence to your shoe!
BRIDESMAIDS & FRIENDS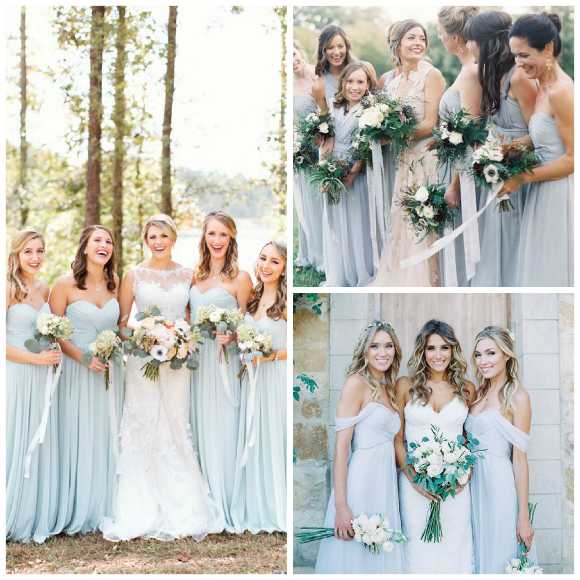 If your bridesmaids are your best friends, then they absolutely should be included! They're your something old (in the nicest possible way!) and we can't get enough of maids in new & blue dreamy gowns. Don't forget to treat them to a little present to show your love – take a look at our edit of bridesmaid gifts for some great suggestions.
GOWNS & ACCESSORIES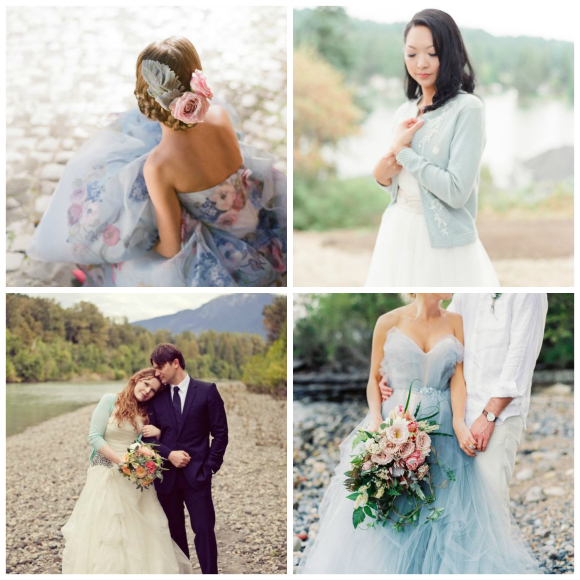 Obviously your gown is a rather brilliant something new but given the wedding world's love of coloured designs, it could also be your something blue. How about borrowing an old cardigan or wrap from someone close to you to wear if it's a cold day or you could opt for one of our blue bridal stoles or boleros.
FLOWERS & RIBBONS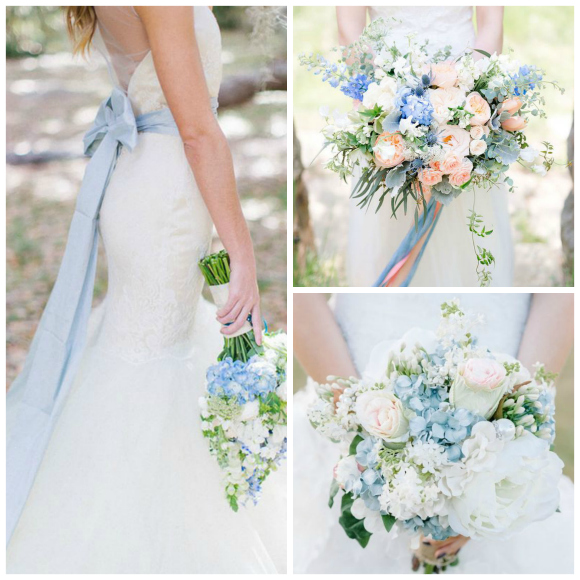 We love trailing ribbons and a blue bridal belt looks absolutely amazing especially when it's teamed with bouquets that feature blue ribbons, blue flowers and, for your something old, a brooch or locket from a loved one. Alternatively, add an heirloom brooch to one of our wedding dress belts to instantly upgrade your wedding day style.
GIFTS & GARTERS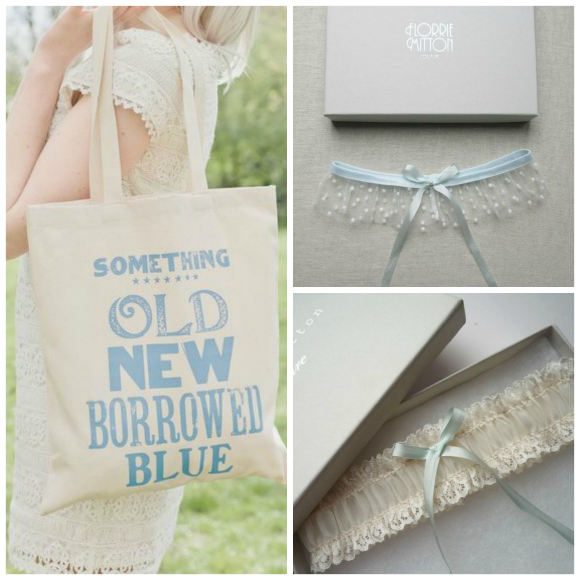 Every bride needs a cool tote and the Something Old tote bag from Alphabet Bags is perfect for all those essentials. We also love beautiful, modern bridal garters made from delicious lace and finished with exquisite embellishments – new and blue all in one!
LACE, LINGERIE & DIY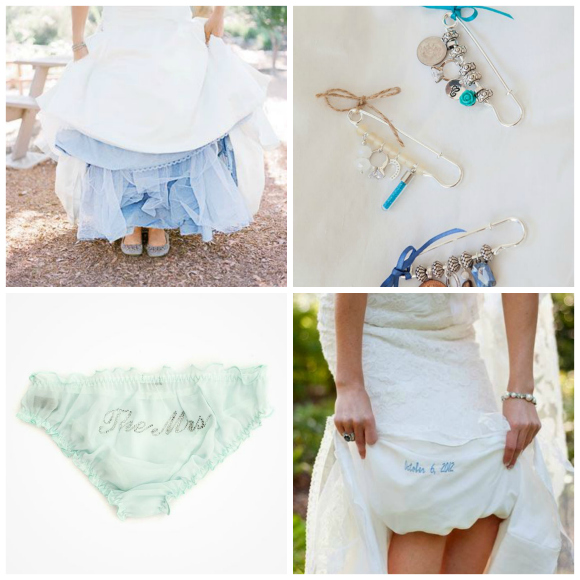 If a parent or grandparent still has their lace wedding petticoat, how about re-purposing it for your own wedding? Pretty bridal lingerie is a must-have (especially in delicate blue tones – new and blue in one, tick!) or why not indulge in a little DIY? Embroider your wedding date in the hem of your skirt or sew in a patch from a loved one's clothing. Another great idea is to make a Something Blue pin. These cute pins are so easy to make – just hang old, new, borrowed and blue details from the pin and attached to your dress or bouquet.
SHOES, SHOES & MORE SHOES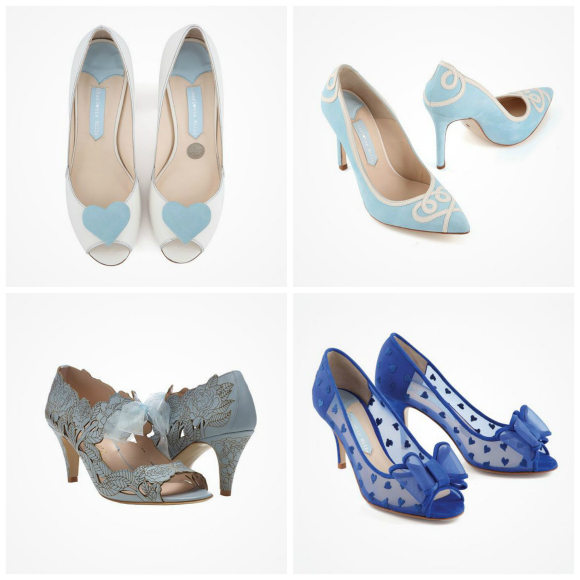 Oh, the fun that you can have with your wedding shoes! We love to see a bride with a pretty pair of shoes peeping out from under her gown. Our selection of beautiful bridal shoes includes some fabulous designs in blue shades and don't forget that Charlotte Mills' shoes are hand finished with a lucky silver sixpence too – perfect!
THE LITTLE DETAILS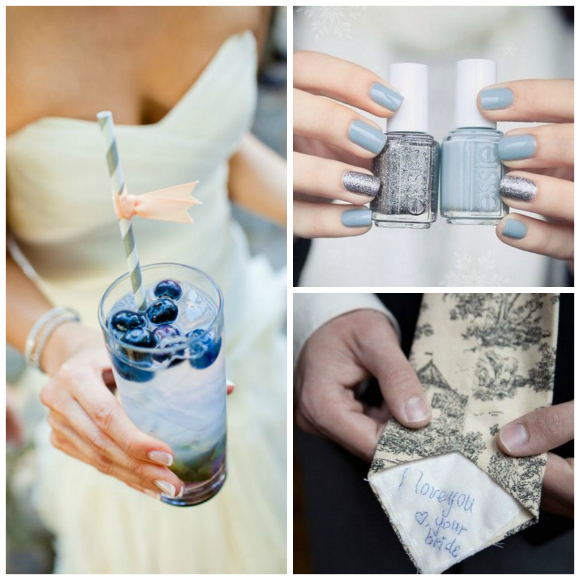 However, the true beauty of translating the something old tradition into your modern wedding is that you can absolutely make it whatever your want. If you want to borrow your Grandma's old wedding dress, you can. If you want to whip up some blue signature cocktails, you can. If you'd like a blue manicure, a vintage wedding dress or a borrowed bracelet, you can. The modern bride knows that the best weddings are full of personal touches and that's all that counts.
Credits:
Image 1: Left – Happy Everything Co. on Southern Weddings Top Right – via Fab Mood Bottom Right – Luna de Mare Photography on Style Me Pretty
Image 2: Top Left – Rochelle Cheever Photography on Burnett's Boards Top Right – Twah Dougherty on Style Me Pretty Bottom Left – The Nichols on Style Me Pretty Bottom Right – CJK Visuals on Green Wedding Shoes
Image 3: Left – via Colin Cowie Weddings Top Right – Anna Kardos Photography on 100 Layer Cake Bottom Right – Tracy Enoch Photography on MOD Wedding
Image 4: Left - Something Old tote bag by Alphabet Bags from Liberty in Love Top Right – Daydream garter by Florrie Mitton from Liberty in Love Bottom Right – Alice garter by Florrie Mitton from Liberty in Love
Image 5: Top Left – via Brides Top Right – Something Turquoise Bottom Left – 'The Mrs' bridal knickers by Ell and Cee from Liberty in Love Bottom Right – Nate Henderson on Southern Weddings
Image 6: Top Left – Andrea by Charlotte Mills from Liberty in Love Top Right – Ana by Charlotte Mills from Liberty in Love Bottom Left – Peony by Harriet Wilde from Liberty in Love Bottom Right – Belle by Charlotte Mills from Liberty in Love
Image 7: Left – Chrisman Studios on MOD Wedding Top Right – via Country House Wedding Venues Bottom Right – Jennefer Wilson Photography