December 09, 2017
How to guides
How to add colour to your bridal outfit
If there's one bridal trend that we've loved seeing emerge over the last few years, it's colour. The days of the all-white bridal ensemble are long gone and now stylish brides are adding colour to their outfit in the most wonderful of ways. Here's our guide on how to add colour to your bridal outfit and we're covering everything from subtle touches to bold statements.
 
BRIDAL ACCESSORIES WITH COLOUR
Now this is where the trend started – coloured bridal accessories. And, if you want just a little flash of colour, then definitely start with your wedding accessories. Luckily, this is an area that we know lots about so we're here to help.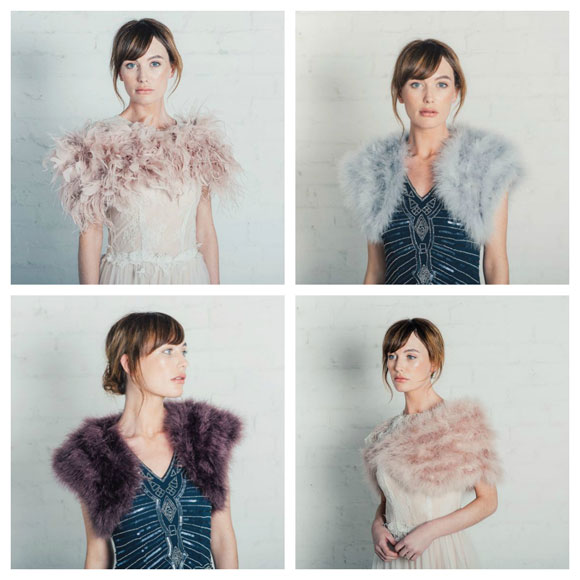 Coloured bridal cover-ups have also become incredibly popular and with good reason. Not only do they add a real touch of glamour and luxury to your bridal ensemble but they're also super easy to wear. We love seeing these added to wedding outfits for evening receptions when they totally change your look in a flash.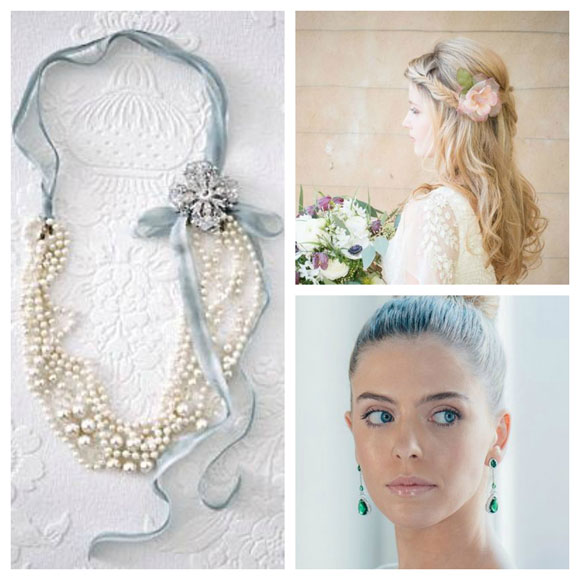 Wedding jewellery is another great way to add colour. You could opt for strong statement earrings such as these from Stephanie Browne or add a gentle hint of colour with these floral silk and chiffon hair clips from Chez Bec. Another idea that we love is ribbon necklaces. These are an easy wedding DIY and a great way to repurpose heirloom pieces for your wedding. Add a ribbon in any colour that you like for extra personalisation.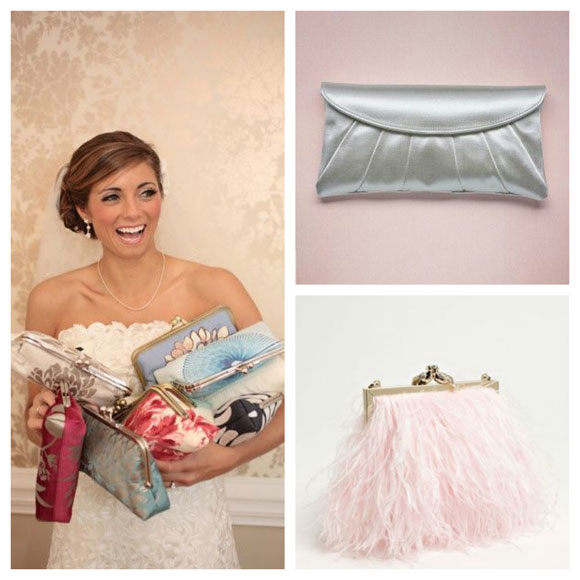 Wedding bags and bridal clutches are another must-have – where else will you keep all your wedding day emergency kit? Coloured bags make the best accessories and again, they're perfect for use after your wedding day.
 
ADDING COLOUR TO YOUR WEDDING DRESS
So now we've looked at coloured wedding accessories, it's time to move on to your wedding dress itself. There's a whole host of ways to bring colour to your bridal outfit here from the delicate to the daring.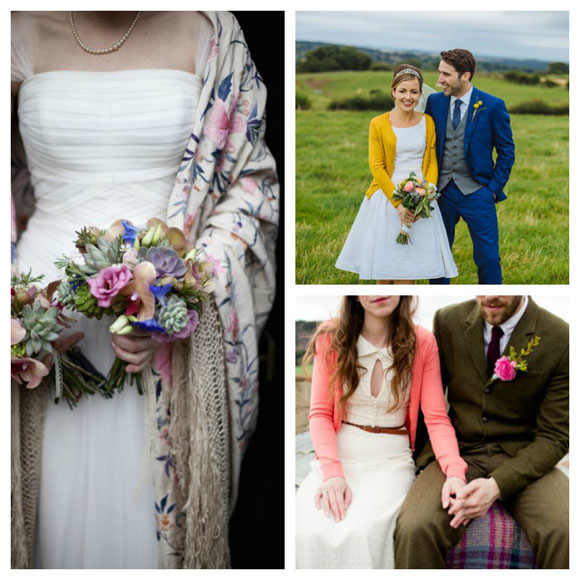 We're breaking you in gently here with cardigans and shawls. These add a little more colour than a stole or bolero and tend to give a different look. Pretty coloured cardigans look delightful on rustic or boho brides whilst elegant shawls suit classic brides.
A coloured sash will add colour in an incredibly flattering way. We love seeing sashes tied with big statement bows and they'll perfect accentuate your waistline too. This is an easy and effective way to make your wedding dress your own.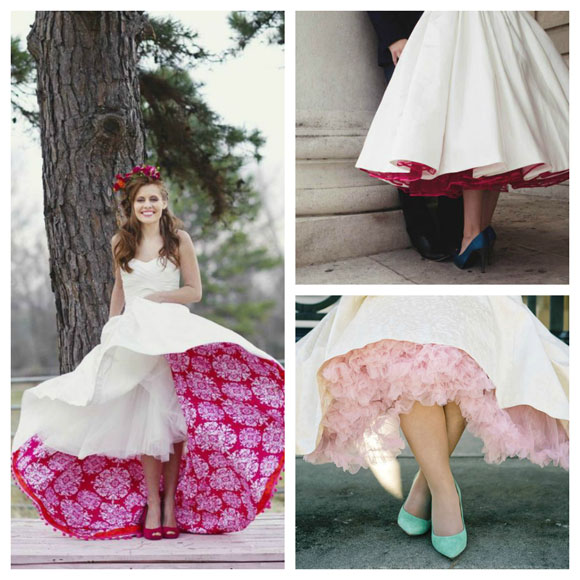 Coloured petticoats have been popular for a while now and we have to say that there's nothing cuter for 1950s style dresses. You can buy petticoats in a huge range of colours from retailers such as Vivien of Holloway or designers such as Candy Anthony can include them with your dress. Bridal gowns that are lined with eye-catching fabrics have totally stolen our hearts too.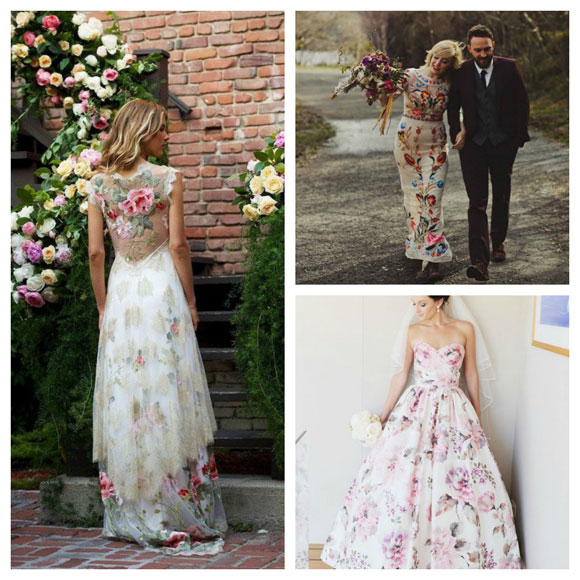 Now let's move on to wedding dresses with a hint of colour and you can find floral patterned gowns in many bridal collections right now. These work so well with the watercolour trend and they're a really beautiful way to add colour. We've also seen more embroidered wedding dresses of late so this is another trend to watch over the coming months.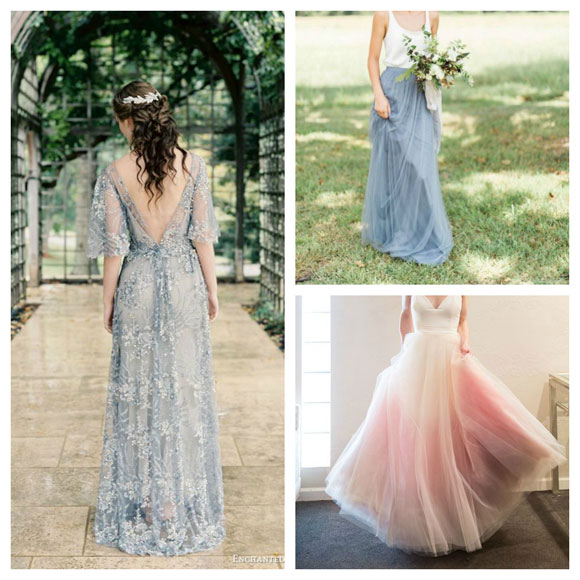 Lastly – coloured wedding dresses. Of course, we totally accept that they're not every bride's cup of tea but my goodness, we are head-over-heels for gowns with colour right now. If you love the idea of adding colour to your bridal outfit in this way then remember that you don't need a fully coloured dress. Work the bridal separates trend and bring in a colourful skirt or top or seek out a gown with an ombre skirt. Heaven.
If you'd like our advice on colourful wedding accessories, we'd love to help. Just get in touch with us via hello@libertyinlove.co.uk and we can suggest the best accessories for your bridal outfit.
Credits:
Image 1: Top Left – Blush pink ostrich feather bridal stole at Liberty in Love Top Right – Silver grey feather bolero at Liberty in Love Bottom Left – Grape feather bridal bolero at Liberty in Love Bottom Right – Blush pink feather bridal stole at Liberty in Love
Image 2: Left – via Tumblr Top Right – Frances pink silk and chiffon hair flower clip by Chez Bec from Liberty in Love Bottom Right – Alexandra earrings by Stephanie Browne from Liberty in Love
Image 3: Left – via Pinterest Top Right – Cocktail pleated satin clutch by Rainbow Club from Liberty in Love Bottom Right – via Elizabeth Anne Designs
Image 4: Left – Lillian and Leonard on Rock My Wedding Top Right – James & Lianne Photography on Want That Wedding Bottom Right – Caro Weiss on Love My Dress
Image 5: Left – via Tulle & Chantilly Top Right – Juliet McKee Photography Bottom Right – via Colin Cowie Weddings
Image 6: Left – via Brit + Co Top Right – Amy Radcliffe on Rock n Roll Bride Bottom Right – Tiffany Hughes Photography on Ruffled
Image 7: Left – via Claire Pettibone Top Right – Dan O'Day Photography on Green Wedding Shoes Bottom Right – via MOD Wedding
Image 8: Left – Laura Gordon on Wedding Inspirasi Top Right – via I Take You Bottom Right – Bradford Jones on Wedding Chicks