Jessica
Jessica wore the Ember CZ drop earrings to complement her beautiful mermaid style Pronovias wedding gown. The look was worn to her elegant, barn style wedding.



PLEASE TELL US ABOUT YOUR DRESS
My dress was by Pronovias. I wish I could say that my search for the perfect dress was easy but this dress actually ended up being the second dress - and was purchased only 4 weeks before my wedding. This was after a fitting issue with my first dress.
I went from something super modern and simple (which was my preferred look) to a mermaid lace dress. I was very limited with choices with such short notice. In the end it all worked out and I loved my dress. I added a cathedral length veil, which went perfectly for our barn wedding.



DID YOU HAVE A CLEAR IDEA OF THE 'BRIDAL LOOK' YOU WANTED TO CREATE?
When I purchased my first dress 12 months before my wedding, I had a very clear idea of what I wanted. I wanted a simple and modern dress, and came out of the store with exactly that. Once I realised that dress was unfortunately not working, I really had to get my head around my new style of dress. The new style was a completely different mermaid dress with lace. This meant I also needed new accessories and led me to Liberty in Love.



WHY DID YOU CHOOSE EARRINGS FROM LIBERTY IN LOVE?
My earrings were a very last minute buy after all the dress stress. As soon I saw the Ember CZ drop earrings on the website, I knew they were perfect. I wanted something glamorous and elegant. They were even better in person. I can't wait to wear them again and I plan on keeping them for my daughter.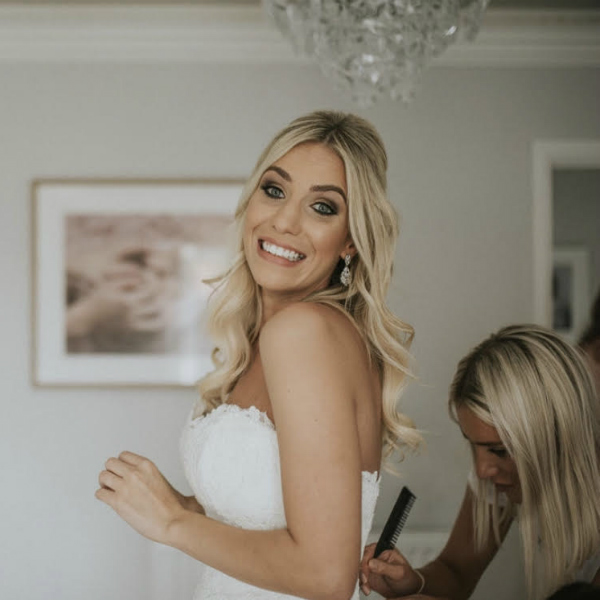 DO YOU HAVE ONE PIECE OF ADVICE FOR FUTURE BRIDES?
My advice for future brides is: amongst all the stress, please try to take a day or even a few hours to yourself to relax. It is the one thing I didn't do and I ran around all week.
All the stress and worry was worth it, really; it will be one of the best days of your life. Enjoy every second of getting ready in the morning with your friends and family, as well as the wedding itself. It goes so fast. I wish we could do ours all over again.
SHOP THE LOOK
Jessica wore the Ember CZ drop earrings to create a modern and glamorous look.